Department acknowledges TRTC fraud
SUSPICIONS Over 17,000 employees were granted subsidies for performing hazardous duties each year, but some had not even worked on the specified days
Taipei City's Department of Government Ethics yesterday acknowledged that several employees had defrauded the Taipei Rapid Transit Corp (TRTC) out of millions of dollars, while promising to continue looking into the case.
An internal investigation at the department showed that over 10 staff members of the TRTC had successfully requested subsidies using fraudulent reasons such as working overtime or performing hazardous duties. The company had paid out over NT$10 million (US$300,000) in such subsidies each year since 2003.
Democratic Progressive Party (DPP) Taipei City Councilor Chuang Rei-hsiung (莊瑞雄), Liu Yao-ren (劉耀仁) and Chen Chia-ming (陳嘉銘) yesterday lashed out at the TRTC for tolerating employee corruption, urging the department to investigate the case thoroughly and prevent similar situations from arising in the future.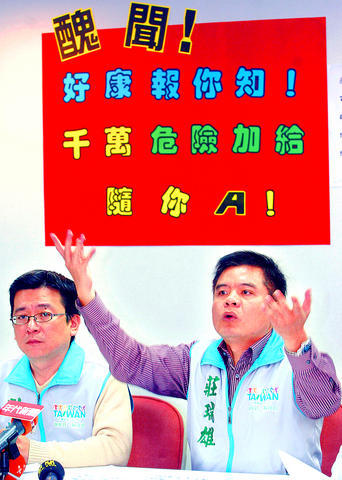 Taipei City Councilor Chuang Rei-hsiung, right, at a press conference in Taipei yesterday demands the city government investigate incidents of Taipei Rapid Transit Corporation's (TRTC) employees allegedly defrauding the TRTC of more than NT$10 million by successfully requesting subsidies using fraudulent reasons.
PHOTO: FANG PIN-CHAO, TAIPEI TIMES
"Several employees have long been applying for such subsidies, and their supervisors indulged such acts. Apparently this is a case of collective corruption," Liu said yesterday at the Taipei City Council.
Chuang said more than 17,000 employees successfully applied for subsidies for performing hazardous duties each year, but many of them had not even worked on the specified days.
Some supervisors managed to receive additional payments by filing the application forms themselves, Chuang said.
"TRTC employees considered illegally appying for subsidies as one of the benefits of working for the company. It's unacceptable," he said.
Cheng De-fa (鄭德發), deputy manager of the TRTC's facility department, said the company found that three employees applied for the subsidies illegally this year, and promised to conduct a thorough internal investigation.
The Government Ethics Department agreed with the councilors that illegally applying for subsidies was not restricted to a few isolalted cases and vowed to continue to investigate the case to prevent such situations from happening again.
Comments will be moderated. Keep comments relevant to the article. Remarks containing abusive and obscene language, personal attacks of any kind or promotion will be removed and the user banned. Final decision will be at the discretion of the Taipei Times.