Kinmen rejects UN-bid torch relay
Kinmen County Commissioner Lee Chu-feng (李柱烽) said yesterday that the county government would not help arrange for the UN-bid torch relay's stop on the island.
Calling the UN bid torch relay an "election scheme" of the Democratic Progressive Party (DPP) government aimed at winning votes in next March's presidential election, Lee said "Kinmen will not dance to that tune."
Lee said that the decision was made after careful consideration and was not an "impulsive act."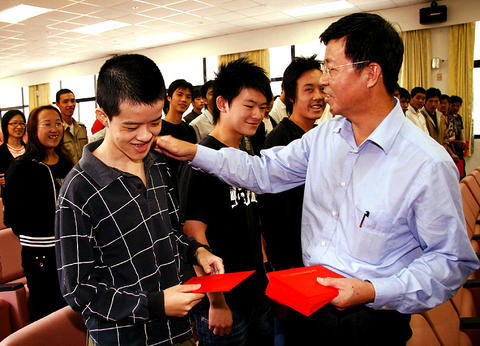 Kinmen County Commissioner Lee Chu-feng, right, yesterday encourages young people who were entering military service.
PHOTO: CNA
Many Kinmen residents have expressed their anger at the idea of hosting an event aimed at moving Taiwan toward formal independence, Lee said.
He said the central government had not come up with a comprehensive plan for Kinmen's future and that many of the promises made to its residents by President Chen Shui-bian (陳水扁) have not been fulfilled, including Chen's promise to make Kinmen into a special administrative region.
"I've come to realize that all such promises have been made simply because of election considerations," Lee said.
Lee cited DPP presidential candidate Frank Hsieh's (謝長廷) recent promise to ease restrictions on capital inflows from China -- and the Mainland Affairs Council (MAC) chief's response that such a policy was impossible for the time being -- as a prime example of a promise that was nothing more than an "election scheme" just like the UN-bid torch relay program.
Lee said he was not worried about reprisals from the central government over his refusal to allow the torch relay.
If the central government were to punish local governments for not taking part in the relay, it would be just like "punishing the will of the people," Lee said, adding "Only a contemptible government does that."
The UN-bid torch relay is scheduled to begin at 7am today in front of the Presidential Office on Ketagalan Boulevard.
It will conclude at 6:30pm on Nov. 3 with the torch's return to the Presidential Office plaza.
Comments will be moderated. Keep comments relevant to the article. Remarks containing abusive and obscene language, personal attacks of any kind or promotion will be removed and the user banned. Final decision will be at the discretion of the Taipei Times.