Alliance calls for end to foreign spouse regulation
HUSBANDS AND WIVES Ten civic organizations that led a protest demanded changes in regulations that require submitting financial information for citizenship
A civic alliance dedicated to protecting the rights of foreign spouses requested yesterday that the government scrap a regulation requiring foreign spouses of Taiwanese nationals applying for naturalization to meet minimum financial requirements.
The alliance made the request in a petition addressed to the Cabinet, claiming that the policy has resulted in a situation of "no money, no status."
The alliance is composed of more than 10 civic organizations, including the Labor Rights Association, the Association to Promote Marriage Across the Strait, the Hope Workers' Center and the TransAsia Sisters Association.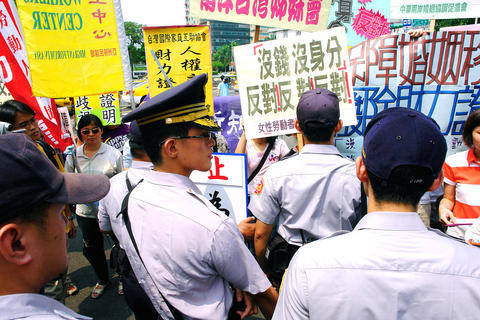 Human rights activists protest in front of the Executive Yuan yesterday to call for an end to regulations requiring immigrant spouses to meet minimum financial requirements.
PHOTO: CNA
Alliance representatives said that foreign spouses from Southeast Asia and China face various obstacles contained in the Immigration Law (移民法) and the Nationality Law (國籍法) when they apply for Taiwanese citizenship.
These regulations include health examinations, a required minimum length of stay in Taiwan, relinquishing original citizenship, meeting financial qualifications and passing a Chinese-language test.
As proof of their financial status, the applicants are required to present financial statements or tax returns indicating that their monthly earnings are equal to at least twice the statutory minimum wage or proof showing that they own real estate worth at least NT$5 million (US$152,500), the representatives said.
They also said that the financial requirement has forced many low-income families to borrow money from marriage brokers, which further increases financial problems.
Alliance representatives pointed out that most developed countries have set financial thresholds for economic immigrants, but not marriage-based immigrants, although some governments require marriage-based applicants to present financial guarantees before entering the country to make sure that the prospective immigrants will not have any problems covering their living expenses.
Comments will be moderated. Keep comments relevant to the article. Remarks containing abusive and obscene language, personal attacks of any kind or promotion will be removed and the user banned. Final decision will be at the discretion of the Taipei Times.