Hou doctored testimony: Ma's lawyer
DISCREPANCY Prosecutor Hou Kuan-jen said that a deposition was not written in a Q&A format and comparing the recording and the transcript would not be accurate
Former Taipei mayor Ma Ying-jeou's (馬英九) lawyer yesterday accused the prosecutor in charge of his indictment of forgery, claiming that a deposition of a key witness was not a truthful record of her statement and demanded a re-examination of the evidence, as Ma's trial for embezzlement continued yesterday.
Ma's lawyer, Song Yao-ming (宋耀明), said during the hearing that Prosecutor Hou Kuan-jen (侯寬仁) changed the statement of a witness in the case, Wu Li-ju (吳麗洳), a Taipei City Government treasurer.
Song told the court that when his team examined the optical disc which contained the entire recording of Hou's questioning of Wu, Wu answered Hou's questions twice with "I don't know" or "I forgot," but Hou wrote down "that is right" or "yes."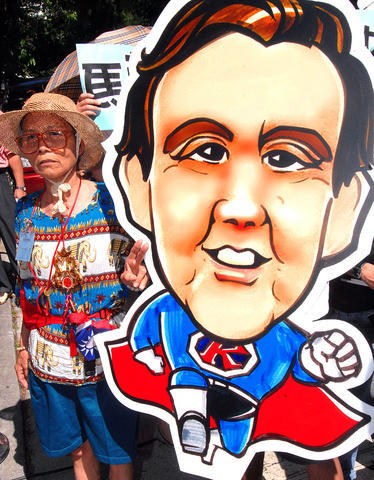 A supporter of Ma Ying-jeou stands with a placard outside the Taipei District Court yesterday.
PHOTO: AFP
Song said the statement was forged by Hou and therefore could not be used as evidence in court.
Presiding Judge Tsai Shou-hsun (蔡守訓) acceded to Song's request that the audio recording be collated with the written statement on Monday -- the eighth hearing of the case.
"I believe the court will make a fair judgment," Ma told reporters as he left the courtroom yesterday.
Some 30 anti-Ma Ying-jeou protesters display placards during a demonstration outside the Taipei District Court yesterday. The Chinese Nationalist Party (KMT) presidential candidate is accused of embezzling some NT$11 million during his tenure as Taipei mayor.
PHOTO: AFP
Hou, meanwhile, rejected the accusation. He told reporters that a written testimony is not prepared in a question-and-answer format because its main purpose is to keep an account of the true opinions of witnesses.
Hou said it would not be accurate to compare the recording of the questioning with the written testimony, as Wu sometimes answered questions by nodding, adding that the deposition was handed over to Wu for confirmation after the questioning was over.
To present the recording to the press before giving it to the chief justice showed contempt for the court, Hou said as he urged Ma's lawyers to not damage public's trust in the judiciary.
Ma, the Chinese Nationalist Party's (KMT) presidential candidate, is on trial for allegedly misusing a special mayoral allowance fund during his eight years as Taipei mayor and embezzling NT$11 million (US$333,000). He has not contested that he took the special allowance for personal use.
Prosecutors have said that between December 1998 and last July, Ma wired half of his monthly special allowance -- NT$170,000 -- directly to a personal account. They also found that Ma had NT$11,176,227 in bank accounts belonging to himself and his wife.
KMT lawmakers yesterday demanded that Hou be subjected to a judiciary investigation.
KMT caucus whip Hsu Shao-ping (徐少萍) said that Hou's action proved that the indictment was a political attempt to suppress Ma.
If the deposition conducted by Hou was found to be fabricated, he might be guilty of forgery, malpractice and abuse of power, she said.
"We have reasonable grounds to suspect that Hou had set his mind that Ma was guilty even before he had finished gathering evidence. Ma has been framed," KMT Legislator Chen Chieh (陳杰) said.
KMT legislative caucus whip Tseng Yung-chuan (曾永權) said Hou should be transferred out of the Special Investigation Task Force and referred to a judiciary investigation.
Meanwhile, Democratic Progressive Party (DPP) lawmakers said the KMT's move against Hou was to a blatant attempt to clear Ma's name.
"It makes no sense at all to accuse Hou of fabricating the deposition," DPP caucus whip Wang Tuoh (王拓) said. "Anyone who has a basic knowledge of the law would know that a deposition is only valid after the person questioned has read the whole piece and signed it."
"If the person questioned disagreed with the deposition, he could ask the prosecutor to make changes. Only when the person questioned found the deposition to be fine would he sign it. How could a deposition be fabricated?" he said.
DPP Legislator Hsu Kuo-yung (徐國勇) said that the accusation against Hou reflected Ma and his lawyers' concern that they might lose the case.
"They therefore came up with this tactic to interfere with the courts review of the case," Hsu said.
Additional reporting by CNA
Comments will be moderated. Keep comments relevant to the article. Remarks containing abusive and obscene language, personal attacks of any kind or promotion will be removed and the user banned. Final decision will be at the discretion of the Taipei Times.