Feature: Authors honored for Hakka efforts
ENCOURAGING INVOLVEMENT After martial law was lifted, most Hakkas tended to hide their identity because of past discrimination. Two writers set out to change that
Prominent Taiwanese literary figures Chung Chao-cheng (鍾肇政) and Lee Chiao (李喬) were honored earlier this month for their lifelong contribution to the revival of Hakka culture.
Chung and Lee, both Hakkas, received the Lifelong Contribution to Hakka Award from the Council for Hakka Affairs at a ceremony held in Taipei on June 16.
Historically, the voice of the Hakka people has been little heard because of their minority status and the Mandarin-only policy imposed during the martial law period between 1949 and 1987.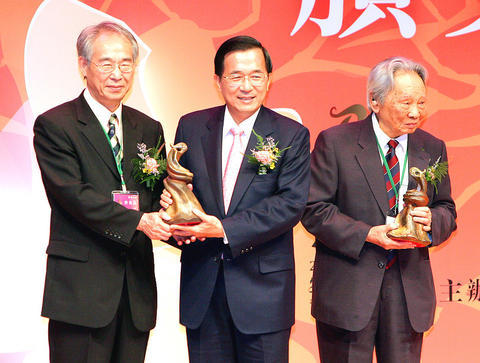 President Chen Shui-bian, center, hands an award to author Lee Chiao, left, for his lifelong contributions to the revival of Hakka culture at an event organized by the Council for Hakka Affairs in Taipei on June 16. Author Chung Chao-cheng received the same award.
PHOTO: CNA
However, Chung and Lee didn't give up on Hakka culture and seized the opportunity to revive it once martial law was lifted in 1987.
Chung shared his story with the Taipei Times at his residence in Longtan (龍潭), Taoyuan County.
In the late 1980s after martial law rule was lifted, Chung realized that most Hakka people, especially those who live in big cities like Taipei, still tended to hide their identity because of past discrimination and government policies.
"So I decided to found the Hakka Association for Public Affairs [HAPA] to encourage Hakkas to be more actively involved in public affairs and to create a new Hakka image," Chung said.
Along with the association, Chung also helped to create Formosa Hakka Radio, which broadcasts in Hakka.
Before the founding of HAPA in 1990, most other Hakka organizations "were all about eating and singing Hakka mountain songs," Chung said.
The mountain song is a genre of traditional Hakka music.
"The goal of HAPA was to encourage Hakkas to be proud of their identity and their language," Chung said.
To that end, Chung chose to create a Hakka voting bloc.
"The plan was to throw our support behind a Hakka-friendly candidate and once the candidate was elected, we'd ask for Hakka-friendly policies in exchange," he said.
The organization's first test case was President Chen Shui-bian (陳水扁).
Chen ran in the first public Taipei mayoral election in 1994 on the Democratic Progressive Party ticket.
Before the 1994 election, most of Taipei's mayors were appointed by the central government.
"I didn't really know who he [Chen] was, but I was amazed to see that someone dared to challenge the Chinese Nationalist Party [KMT], which suppressed the Hakka language for such a long time," Chung said.
Chen won the election and Chung's choice proved to be the correct one.
In addition to a gathering place for Hakka groups that HAPA asked for in Taipei, Chen also built a Hakka Culture Center and a foundation to promote Hakka culture, Chung said.
Chung was satisfied with Chen's performance as Taipei mayor and decided to support Chen in the 2000 presidential election.
"Again, Chen didn't let us down, as he pushed for the founding of Council for Hakka Affairs in the Cabinet and Hakka TV," Chung said.
"All I have done so far is to help to restore the Hakka language, culture and dignity," Chung said.
In the future, Chung hopes to promote the idea of "Taiwanese Hakka."
"Our ancestors may be from China, but we must remember that we're Hakka from Taiwan -- we're different," Chung said.
Chung said as Hakkas in China are a continental people, while Hakkas in Taiwan are an oceanic people, "we should set our goals across the oceans into the world."
Lee also told his story to the Taipei Times at his residence in Miaoli County.
"The award wasn't for me alone, I just accepted it on behalf of the many teams that I've worked with," Lee said.
"I've hosted many TV shows broadcast in Hakka on many different TV channels since 1998 ? It's the production teams and the TV channels I've worked with that gave me the opportunity to win the recognition," Lee said.
In all the shows that Lee hosted -- including a news program, a show on Taiwanese literature and various documentaries -- he attempted to interpret local events from the Hakka point of view.
"The Hakkas have been silent as far as the interpretation of historic events is concerned," Lee said.
"For example, people usually don't see the armed conflicts between the Hoklos and the Hakkas from a Hakka point of view. Therefore, sometimes, Yimin [righteous people, 義民] seems to become evidence of Hakkas' `original sin,'" Lee said.
Yimin refers to a title that China's Qing dynasty gave to Hakka people who helped the Qing government to put down an armed uprising led by Hoklo people.
Although most of the Yimin merely wanted to defend their communities against Hoklo rebels, they are often considered "traitors" who helped the government against the Hoklos.
Hence, Lee felt it was his responsibility to establish a Hakka interpretation of history.
In addition, Lee also wanted to promote the idea of Taiwanese identity among Hakkas.
"I'm a Hakka, but I often feel very sad about the strong emotional ties to the ancestral land among Hakkas," Lee said. "Many Hakkas think themselves as Hakkas before they consider themselves as Taiwanese, and it's not right."
Comments will be moderated. Keep comments relevant to the article. Remarks containing abusive and obscene language, personal attacks of any kind or promotion will be removed and the user banned. Final decision will be at the discretion of the Taipei Times.