Ma, Hsieh continue battle over cross-strait policies
HOLDING THE LINE While acknowledging that 'three direct links' would benefit Taiwan, the DPP candidate insisted that the nation's values must be maintained
Chinese Nationalist Party (KMT) and Democratic Progressive Party (DPP) presidential hopefuls continued their sparring over cross-strait policy yesterday.
On Monday, DPP presidential candidate Frank Hsieh (謝長廷) criticized KMT candidate Ma Ying-jeou's (馬英九) promise to allow all Taiwanese to use the "small three links" if he were elected president.
The "small three links" refer to direct shipping services maintained between Taiwan's outlying islands of Kinmen and Matsu with the three Chinese ports of Xiamen, Mawei and Quanzhou in Fujian Province.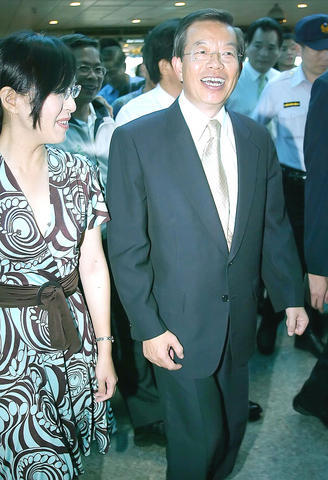 Democratic Progressive Party presidential candidate Frank Hsieh, right, smiles at Taiwan Taoyuan International Airport yesterday before his trip to Japan for the memorial service of late Japanese lawmaker Motoo Shiina.
PHOTO: YAO CHIEH-HSIU, TAIPEI TIMES
At present, only people with household registrations in Kinmen or Matsu and Quanzhou in Fujian are allowed to travel between Taiwan and China via the links.
Hsieh said Ma's concept reflected his lack of experience in cross-strait affairs and that Ma's suggestion would only impair two-way talks on the opening of direct links between Taiwan and China.
Ma hit back yesterday.
"I've participated in cross-strait affairs since 1988 and have become very familiar with the issue. The KMT would solve the direct flight issue within a year if we regained power," Ma said during a trip to Penghu.
"Hsieh has never clearly explained his cross-strait policies. ? I hope that he will present a detailed explanation of his cross-strait policies," he added.
While acknowledging that "three direct links" would be beneficial to Taiwan, Hsieh on Monday insisted that Taiwan's values must not be compromised if direct transport, trade and postal services are opened with China.
Ma yesterday said Hsieh's cross-strait policies were too "vague," while vowing to push for three major cross-strait policies if elected, including cross-strait negotiations on direct links, opening the "small three links" to all Taiwanese and making charter flights available on holidays.
Ma said that the issues of direct links and the "small three links" are major concerns for many Taiwanese.
Ma added that he would turn Magong Airport in Penghu into a direct flight airport to promote Penghu's tourist industry to Chinese visitors.
In a move to attract more pro-localization supporters, a book by Ma will be published on Friday detailing his thoughts on the subject.
When approached by reporters at Taiwan Taoyuan International Airport yesterday as he was leaving for Japan to attend the memorial service for late Japanese lawmaker Motoo Shiina on behalf of President Chen Shui-bian (陳水扁), Hsieh responded to Ma's criticism.
Hsieh said Ma was unable to provide solutions to problems that Taiwan could encounter during negotiations with China such as how to define direct transportation links.
Saying that Ma "seemed to be willing to promise whatever China wants," Hsieh said the premises of his cross-strait policies are different from his counterpart's.
Hsieh also said his cross-strait policies are consistent.
"I proposed these policies a long time ago. He [Ma] was either not paying attention to them or ignoring them," he said.
"My cross-strait policies are open policies that will also give consideration to Taiwan's sovereignty," he said.
Comments will be moderated. Keep comments relevant to the article. Remarks containing abusive and obscene language, personal attacks of any kind or promotion will be removed and the user banned. Final decision will be at the discretion of the Taipei Times.