Koo shares experiences with youth
Veteran independence advocate Koo Kwan-min (辜寬敏) engaged in a dialogue with young people yesterday in an effort to promote Taiwan-centric identity among the country's youth.
The forum was held by several pro-independence youth organizations in Taipei.
Koo started by sharing his life stories and beliefs.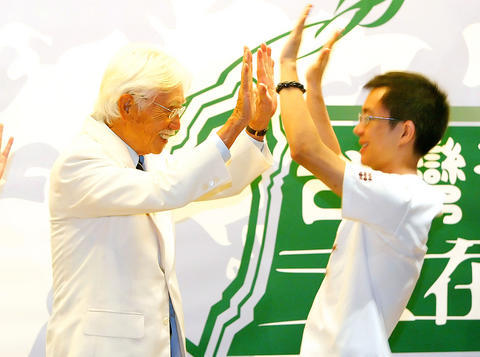 Former Democratic Progressive Party presidential adviser Koo Kwan-min, left, gives a young supporter of Taiwanese independence a ''high five'' at a forum on Taiwanese national identity yesterday in Taipei.
PHOTO: CNA
"When I was a kid, I attended schools where most of the students were Japanese," Koo said.
Koo was born in 1926 during the Japanese colonial period.
As a Taiwanese, Koo often suffered discrimination by his Japanese classmates, but he never surrendered, Koo said.
"They [the Japanese students] said I should be humble because I was Taiwanese and they wanted me to apologize for not being humble enough. But I refused to do that," Koo said.
"So they beat me, and I fought back and never surrendered to them" Koo told the audience.
Koo told his audience that his childhood experiences had taught him to fight injustice and to hold on to his beliefs.
"Maybe you're young, inexperienced and maybe you're just an ordinary person ... but as long as you hold on to what you believe, you'll win the respect [of others] one day," Koo said.
He said that his struggle against the colonial regimes that ruled Taiwan -- be it the Japanese or the Chinese Nationalist Party (KMT) -- and to help to establish Taiwan as a self-sustained nation were his life-long beliefs.
Asked by a member of the audience if he was worried about a Chinese military intervention if Taiwan were to declare independence, Koo said "I wouldn't worry about it."
"China's economy relies on foreign investment along the coastline. If a war breaks out between Taiwan and China, China's economy would simply collapse as foreign investment would melt away," he said. "That would be a real disaster for China."
Koo, however, said that if China developed into a self-sustained economy, "the situation could change."
As most of the cash flow doesn't return to Taiwan, "the tighter the relations between the two countries, the worse the economic condition would be for Taiwan," he said.
"A lot of people are against Taiwan's independence while they benefit from Taiwan's status as an independent country," he said.
Comments will be moderated. Keep comments relevant to the article. Remarks containing abusive and obscene language, personal attacks of any kind or promotion will be removed and the user banned. Final decision will be at the discretion of the Taipei Times.