Foreign minister cool on diplomatic breakthrough
Minister of Foreign Affairs James Huang (黃志芳) said yesterday that Taiwan had not asked St. Lucia to sever diplomatic relations with China during the negotiations for the resumption of ties with the eastern Caribbean island nation.
Huang made the remarks one day after Premier Su Tseng-chang (蘇貞昌) announced on Wednesday that St. Lucia would become Taiwan's 25th diplomatic ally after its minister of foreign affairs announced the decision to its Congress.
The East Caribbean nation first established diplomatic ties with Taiwan in 1984 but then switched recognition to China in 1997.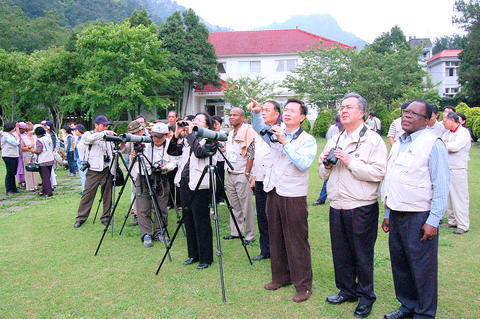 Minister of Foreign Affairs James Huang, third right, points to the sky as a delegation of ambassadors representing Taiwan's diplomatic allies engage in a ministry birdwatching event at the Aowanda National Forest Recreation Area in Renai Township, Nantou County, yesterday.
PHOTO: CHENG HSU-KAI, TAIPEI TIMES
St. Lucian foreign minister, Rufus Bousquet said on Tuesday his government intended to form ties with Taiwan. He said that did not mean the island was breaking ties with Beijing.
The remarks however did not stop criticism from China, who yesterday insisted the Caribbean nation should recognize Beijing as the sole Chinese government.
"There is only one China in the world. Taiwan is an inalienable part of China ... St. Lucia should strictly abide by its commitment [to recognize Beijing]," Foreign Ministry spokesman Liu Jianchao (劉建超) said.
"The Taiwan authorities continue to engage in activities to split the country," Liu said. "We are strongly against attempts to split the motherland. Such attempts will never succeed."
Meanwhile, Huang confirmed that Taiwan would resume diplomatic ties with St. Lucia, expressing the hope that the two could sign a communique marking the official re-establishment of ties as soon as possible.
His ministry was working to complete all the relevant follow-up procedures, he added.
Asked about the protest from Beijing, Huang stressed that diplomacy was "not a zero-sum game."
Over the past four months, Huang said he had made two separate visits to the country, including one last month at the invitation of his St. Lucian counterpart.
Taiwan's attitude and reputation in the Caribbean Sea was the key to Taiwan winning back its former ally, he added.
Huang stressed that money was never the key to the re-establishment of ties because Taiwan did not intend to compete with China in "checkbook diplomacy."
"China has actually been trying to raise the cost [of ties with] St. Lucia over the past four months, but it did not work," Huang told reporters. "The whole course of the establishment of ties is not necessarily related to money."
"It is all about the attitude," he said.
Because Taiwan has yet to sign a formal diplomatic communique with St. Lucia, Huang said he could not reveal too many details about the whole process, but Huang indicated that China's hard attitude might be a reason why St. Lucia prefers making friends with Taiwan.
Huang said Taiwan had created a good reputation in the Caribbean Sea and Taiwan's two allies there, St. Kitts and Nevis and St. Vincent and the Grenadines, had told their neighbor of Taiwan's achievements.
Comments will be moderated. Keep comments relevant to the article. Remarks containing abusive and obscene language, personal attacks of any kind or promotion will be removed and the user banned. Final decision will be at the discretion of the Taipei Times.