Feature: Face-threading wins over new generation
FOR YOUR BIG DAY The traditional technique is not only a beauty treatment, but was once a ritual for women preparing to get married, to bring good luck
Sitting in her stall outside a Catholic church in Shilin, Taipei, and equipped with a beauty kit, 61-year-old Mo Xiang-xiang (莫香香), a hair threading practitioner, sat facing her customer while removing the woman's facial hair rhythmically with a cotton thread.
Mo put white powder on her customer's face, then gently held one end of a thread in her teeth, the other in her hands, and moved the thread to trap rows of the customer's facial hairs and pull them out by the roots.
With more than 40 years of experience, Mo is a master of a traditional Asian technique for removing hair called wanmian (挽面), which literally means "threading the face."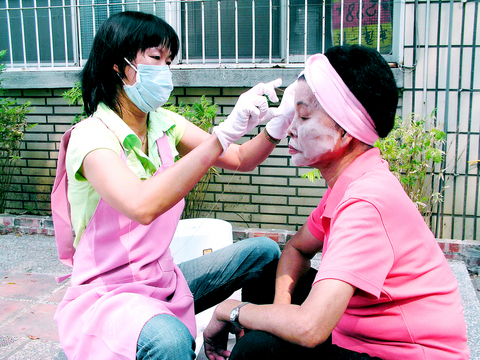 A woman receives a traditional face-threading treatment in Kaohsiung County on Oct. 21.
PHOTO: CHU YU-LING, TAIPEI TIMES
"Face-threading lights up your face by removing all unwanted facial hair. It's an old method, but it does more than lighting up your face. It brings you luck, too," she said.
Traditionally, face-threading was not only a beauty treatment but also a ritual for women the day before getting married. The ritual was called kaimian (開面) and was believed to bring good luck and fortune to the bride-to-be by brightening up her face.
While many traditional practices have disappeared, face-threading has managed to survive, as some young ladies now embrace this traditional technique in their pursuit of natural beauty treatments.
On a sidewalk of Wenlin Road in Shilin, Mo and more than 10 other face-threading practitioners have lined up their stalls on "face-threading street," where this method has been practiced for more than 30 years.
Mo sets up her stall each day at about 8am, bringing along several chairs and her kit -- white powders, combs, hair clips and rolls of cotton thread -- and works until 5pm or 6pm in the evening regardless of customer flow.
Since more stalls have started popping up on "face-threading street," Mo said she usually had 5 to 6 customers during weekdays and more than 10 on weekends.
In addition to face-threading, which takes about 30 minutes and costs NT$200, Mo and other practitioners also provide other services, such as eyebrow threading and pedicures.
Compared to modern facial hair removal using tweezers, razors or even lasers, Mo said threading is more effective and natural, and hair regrowth becomes finer after regular treatments as the top layers of skin are not peeled or traumatized in the process.
"But of course threading could be painful for first-timers, but a little suffering for a beautiful face is definitely worth it," she said.
Sitting on a chair in Mo's stall facing the noisy street, 30-year-old Melody Chang (張美堤) was having an eyebrow threading. As a regular customer of Mo, Chang said she began to have regular facial and eyebrow threading after a friend convinced her to get a face-threading.
"It hurt so much during my first face-threading that I burst into tears. But it doesn't hurt now, and my skin feels smooth and acne-free," she said.
The ancient method not only attracts young women like Chang, but also men and foreigners, practitioner Tina Wu (吳春慧) said.
"More and more men care about their appearance and are willing to give face-threading a try. Many foreign visitors who come to Shilin, especially Japanese, also try face-threading," she said.
Penny Tsai (蔡佩盈), who recently got her first face-threading from Wu, said her face felt swollen after the threading and she would only consider getting a second one after making sure her skin had not been hurt.
Wu said face-threading normally does not hurt the skin, but people with sensitive skin may feel uncomfortable. Unprofessional practitioners can also hurt a customer's skin, she said.
If the skin was still red or swollen after few days, customers should visit dermatologists and stop getting face-threading, Wu said.
Although doing face-threading does not make for an easy living, Wu, who learned the skill from her mother-in-law two years ago and now works at her stall every other day, said she is willing to pass on this traditional method so that it will not be lost.
"Face-threading is usually passed on as a family tradition and rarely taught to outsiders, so I feel privileged that my mother-in-law wanted to teach me the skill," she said.
Mo, who learned the skill from her grandmother, expressed the same concern that the technique would be lost.
In addition to her daughter, she has decided to pass on the tradition by offering courses to those who are interested.
"Many foreigners have told me that the face-threading technique in Taiwan is No.1 in the world," she said. "It's natural, it's cheap and it's effective. I can't let this tradition die with my generation."
Comments will be moderated. Keep comments relevant to the article. Remarks containing abusive and obscene language, personal attacks of any kind or promotion will be removed and the user banned. Final decision will be at the discretion of the Taipei Times.