Chen to help select DPP presidential candidates
President Chen Shui-bian (陳水扁) said he would help with the Democratic Progressive Party's (DPP) candidate selection for next year's presidential election through building a consensus among all of the hopefuls, party sources said yesterday.
DPP legislative whip Ker Chien-ming (柯建銘) quoted Chen as saying at a gathering of senior administrators and DPP officials at a recreational park in Sansia (三峽), Taipei County, on Saturday that he feels "bound in honor" to assist in coordinating the selection of the DPP's presidential ticket next year.
"If necessary, I will not evade the duty of helping with presidential candidate selection through coordination," Chen said at the spring gathering he hosted in honor of government and party officials and DPP lawmakers.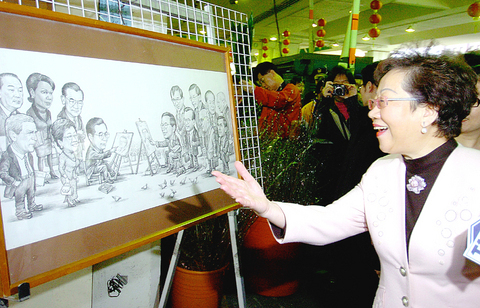 Vice President and possible presidential hopeful Annette Lu laughs yesterday as she admires a drawing at the Jianguo Flower Market of President Chen Shui-bian and Chinese President Hu Jintao making drawings of each other.
PHOTO: CHU PEI-HSIUNG, TAIPEI TIMES
According to Ker, the selection of the party's candidate for the next presidential election was the hottest topic discussed during the event.
With the party's four heavyweights -- Vice President Annette Lu (呂秀蓮), Premier Su Tseng-chang (蘇貞昌), former premier Frank Hsieh (謝長廷) and DPP Chairman Yu Shyi-kun -- overtly or covertly vying to be the party's candidate in the presidential race, Ker said many DPP members are worrying over how to build a consensus among the aspirants to avoid damaging party unity.
"Many participants at the spring gathering requested that the president help with this tough and arduous job," Ker said.
Hsieh said at the event that party unity is the most important factor in ensuring an electoral victory.
Therefore, he said, the party should act early to pick its presidential candidate through consensus building instead of holding a primary, which he said could undermine harmony and unity.
If next year's presidential election and the year-end legislative election are held simultaneously, Hsieh said, the voting day should be advanced to Jan. 26, in which case there would be less than a year left for preparation.
"This is why I have been advocating that our party should start presidential hopeful registration as soon as possible," Hsieh added.
Lawmakers present at the meeting called for an extensive debate among all presidential aspirants on the party's future policy positions and various reform initiatives.
Hsieh reportedly threw his support behind the debate proposal.
Su said he believes that the administrative success of the Cabinet would provide the best guarantee of the ruling party's success in the election.
"Against this backdrop, I'll work diligently and cooperatively with all party members in carrying out all of our policy initiatives and reform projects. I also wholeheartedly support the proposal of having the president assist in deciding on our party's presidential ticket as early as possible," Su said during the meeting.
For his part, Yu said the DPP's Central Standing Committee has worked out a schedule by referring to past practices for selecting the party's presidential candidate. According to the schedule, candidate registration will start in April, a primary vote by party members will take place in May and public opinion polls will be held in June.
According to DPP regulations, the primary voting result accounts for 30 percent of a candidate's score and the opinion poll results make up 70 percent.
Yu said he would not oppose advancing the candidate selection schedule or asking for Chen's help as a coordinator.
Another topic discussed at the meeting on Saturday was the administration's ongoing campaign to rename state-owned companies, a move that aims to replace references to China with Taiwan in the companies' names to make them more identifiable with their country and avoid confusion with similarly named Chinese organizations.
Chen acknowledged that it would be very difficult to satisfy everyone in regard to the campaign to change the names.
Consequently, he said, the government and the DPP would be better off if they kept a low profile and refrained from "talking too much" about the issue.
Yu said the drive to change the names is aimed at delivering on the DPP's commitment to make Taiwan a "normal, complete and great" country.
Comments will be moderated. Keep comments relevant to the article. Remarks containing abusive and obscene language, personal attacks of any kind or promotion will be removed and the user banned. Final decision will be at the discretion of the Taipei Times.