Lawmakers behaving badly again
All Chinese Nationalist Party (KMT) Legislator Chu Fong-chi (朱鳳芝) wanted was to wave her provocative poster and hijack the Home and Nations legislative committee meeting yesterday.
Democratic Progressive Party (DPP) Legislator Huang Chao-hui (黃昭輝), however, had other ideas.
Huang swiped at Chu's poster with a burst of unchecked rage, and shredded the placard.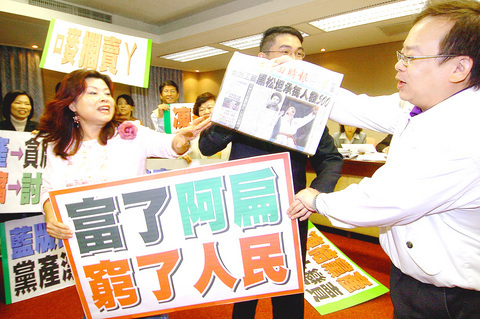 Pan-green and pan-blue lawmakers scuffle in the legislature yesterday over whether to disband a meeting to discuss the Political Party Law, one of the proposed anti-corruption sunshine bills. The sign reads, ``Ah-Bian gets richer, the people get poorer.''
PHOTO: SUNG CHIH-HSIUNG, TAIPEI TIMES
Chu retaliated by shoving DPP Legislator Yu Jan-daw (余政道) and dipping her fingers into DPP Legislator Kao Chien-chih's (高建智) cup to flick tea on him.
Not to be one-upped, Huang steamrollered Non-Partisan Solidarity Union Legislator Tsai Hau (蔡豪) by pushing him away from the podium.
In a familiar scene of lawmakers behaving badly, a key legislative meeting was derailed yesterday.
At issue was whether to discuss KMT Legislator Wu Yu-sheng's (吳育昇) proposed land management bill, which Wu said he had placed on the committee's legislative agenda well in advance of the meeting.
The lawmaker added that such an agenda required lawmakers to discuss his legislation yesterday.
Instead of Wu's bill, however, the convener called for a debate on an amendment to the Political Party Law (政黨法), which, according to DPP lawmakers, would have cast the spotlight on the KMT's illicit assets.
"This is illegal," Wu told the convener, referring to the scheduling change.
"You must notify me at least two days prior to such a change. That's the law," Wu added.
"I did notify you two days ago!" the convener replied.
"I got a phone call about the change just last night. What are you talking about?" Chu shot back.
Amid shouts and table-pounding, legislative staffers hauled in anti-KMT and anti-DPP placards for lawmakers to brandish. The deadlock continued for nearly one and a half hours, eventually forcing the convener to call for a vote on whether to prematurely adjourn the meeting.
Just in case opposition lawmakers were unsure of whether to support terminating a meeting in which DPP lawmakers sought to discuss party assets, KMT caucus whip Tsai Chin-lung (蔡錦隆) quietly appeared on the sidelines, personally instructing fellow pan-blue lawmakers on how to vote.
"Legislator Lin, approve! Approve [to adjourn]!" Tsai said to People First Party Legislator Lin Chun-teh (林春德).
"Oh, right. Approve," Lin said in response.
Comments will be moderated. Keep comments relevant to the article. Remarks containing abusive and obscene language, personal attacks of any kind or promotion will be removed and the user banned. Final decision will be at the discretion of the Taipei Times.