Shaw remains in critical condition, mayor stable
SURGERY After an auto accident on Saturday, the wife of Taichung Mayor Jason Hu had her spleen removed and a portion of her left forearm amputated
Shaw Hsiao-ling (邵曉鈴), wife of Taichung Mayor Jason Hu (胡志強), remained in critical condition as of press time yesterday after being rushed to the hospital on Saturday night following a car accident.
Chimei Hospital deputy superintendent Lee Hao-hsien (李浩銑) yesterday afternoon told the press that doctors had performed a second surgery on Shaw.
"Unfortunately, in order to save her life, Shaw's spleen had to be removed and a portion of her left arm was amputated," Lee said.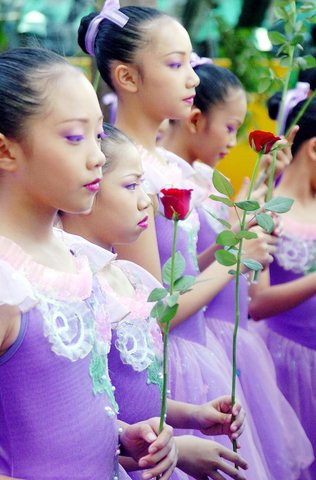 Children dressed up as ballet dancers hold roses yesterday at an event sponsored by the Taichung City Reading Association in front of the Kuang San Sogo Department Store in Taichung to offer prayers for Taichung Mayor Jason Hu's wife, Shaw Hsiao-ling, who is in critical condition after a car accident.
PHOTO: LIAO YAO-TUNG, TAIPEI TIMES
Shaw remains in the intensive care unit, Lee said.
Lee said doctors had difficulty stemming Shaw's bleeding and the next 24 hours would be critical.
Lee said Shaw lost a large amount of blood and needed a transfusion of 13,000cc.
Hu and his wife were injured on Saturday evening in a car accident in Tainan County.
Hu suffered only minor injuries and was able to walk into the hospital unaided.
The traffic accident took place on the north-bound section of the Formosa Freeway when Hu and his wife were heading back to Tai-chung from Kaohsiung after campaigning for Chinese Nationalist Party (KMT) Kaohsiung candidate Huang Chun-ying (黃俊英).
The car carrying Hu and his wife rolled over after it was hit by a vehicle that was trying to pass a truck on the freeway.
The couple were rushed to the nearby Chimei Hospital in Tainan.
Shaw was unconscious when she arrived at the hospital.
Huang said yesterday he felt guilty about the car accident and prayed for Shaw.
Politicians across party lines yesterday sent flowers and expressed their concerns for Shaw.
Meanwhile, the Government Information Office (GIO) said it had requested that the Taipei City Government investigate the matter of the photograph published on the front page of the Chinese-language Apple Daily yesterday.
The GIO said it was inappropriate for the paper to print a photo showing Shaw covered in blood.
In response, Editor-in-Chief of the Apple Daily Chen Yu-hsin (陳裕鑫) said he found the GIO's criticism unacceptable.
The photograph was taken in front of the hospital and did not constitute an invasion of privacy, Chen argued, adding that the newspaper felt obligated to use the image because it depicted an event that the public would be interested in.
Taipei City Government Department of Social Welfare Commissioner James Hsueh (薛承泰) said the newspaper would be fined if it was found to have violated the law.
Comments will be moderated. Keep comments relevant to the article. Remarks containing abusive and obscene language, personal attacks of any kind or promotion will be removed and the user banned. Final decision will be at the discretion of the Taipei Times.