TSU revokes Chou's membership
Angered by Taipei mayoral candidate Clara Chou's (周玉蔻) refusal to follow a party resolution to oppose the third recall motion against the president, the Taiwan Solidarity Union (TSU) yesterday revoked Chou's party membership and announced that it would stop campaigning for her.
"Chou's campaign platform does not conform with the TSU's image and is not acceptable to our supporters. She caused damage to party unity and the TSU would have to be disbanded if we failed to act on this matter," TSU Chairman Shu Chin-chiang (蘇進強) said at party headquarters.
Shu made the remarks following a two-hour impromptu Central Executive Committee meeting held yesterday afternoon.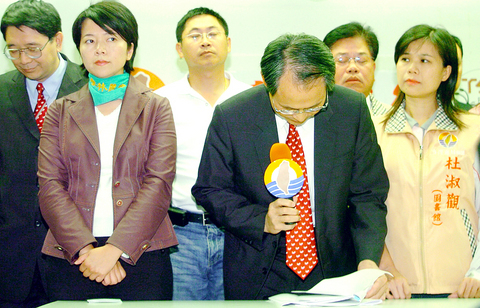 Flanked by party cadres and Taipei City Council nominees, Taiwan Solidarity Union (TSU) Chairman Shu Chin-chiang, front right, yesterday offers a formal apology to party supporters after he announced that TSU Taipei mayoral candidate Clara Chou had been expelled from the party.
PHOTO: CHIEN JUNG-FONG, TAIPEI TIMES
Since the inception of her mayoral campaign, Chou has faced criticism from TSU members and pan-green supporters for her continuous attacks on Democratic Progressive Party (DPP) Taipei mayoral candidate Frank Hsieh (謝長廷).
She later announced that she would support the recall motion against the president after her party had decided not to.
Shu said yesterday all committee members had agreed to cancel Chou's membership and the party would not be responsible for her comments or conduct in the future.
"Chou doesn't understand the TSU well enough and has continued to damage the party despite our efforts to communicate with her ?To protect the party's image, we have no choice but to revoke her membership," he added.
When asked whether the TSU would support Hsieh from now on, Shu said the party would allow its supporters to decide which candidate they should support.
Shrugging off the party's decision, Chou said yesterday that she would continue to support the third recall motion, a decision she argued is based on TSU principals and the beliefs of former president Lee Teng-hui (李登輝).
"I support the third recall motion and insist on distancing myself from the corrupt DPP no matter what ... I followed Lee Teng-hui's course and chose to stand by integrity and localism," she said.
Insisting that she would not make any concessions, Chou further accused President Chen Shui-bian (陳水扁) of manipulating the TSU to revoke her membership in an attempt to prevent the recall motion from being passed in the legislature.
"I love the TSU, but I love truth and my conscience more. I can't just sit and watch the party being hijacked and cheated by President Chen," Chou said, adding that she would not withdraw from the election.
When asked if she had informed Lee about the situation, Chou said she had chosen not to bother the former president.
Shu said the party had not discussed the matter with Lee either.
Comments will be moderated. Keep comments relevant to the article. Remarks containing abusive and obscene language, personal attacks of any kind or promotion will be removed and the user banned. Final decision will be at the discretion of the Taipei Times.