The kids aren't alright: foundation
POOR GRADES A child welfare foundation gave the nation a mediocre score on its protection of children's rights, though there was some improvement since 2002
The protection of children's rights is better than it was three years ago, but there is still much room for improvement, according to a report released yesterday by the Child Welfare League Foundation.
The foundation gave an overall score of just 76 out of 100 to the nation's protection of kids' rights, compared to a score of 71 on a similar survey three years ago.
The foundation based its evaluation on the 2005 Taiwan Children Rights Protection Survey, which was conducted via the Internet by the foundation and Yam Digital Technology Co from Oct. 20 to Oct. 31. The foundation gave scores on the present condition of children's rights, with a score of 60 or above a "passing" grade.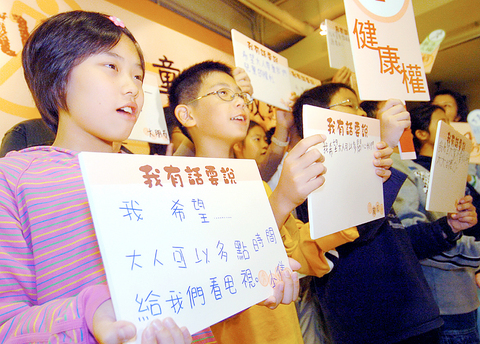 Children demand better treatment after the Child Welfare League Foundation released a report on children's rights. The report gave a final mark of only 76 for adults' treatment of children.
PHOTO: CHANG CHIA-MING, TAIPEI TIMES
The survey was divided into four categories: basic human rights for children, the right to social care, the right to be healthy and the right to be educated.
Alicia Wang (王育敏), the foundation's executive director, said that even though the basic human rights category received a score of 80 -- three points higher than three years ago -- 74 percent of the children polled were scared that they could be kidnapped.
This means that children's right to protection has not been sufficiently enforced, she said.
Compared to basic human rights, the right to be healthy was given a lower score of 70, since more than three-fourths of the children polled were worried about contracting illnesses such as bird flu, Wang said.
The children were mostly satisfied with their right to social care, although 20 percent of the children felt that adults are not fulfilling their child care responsibilities, Wang added.
The right to education was given the poorest grade of any category, with a score of 68. Most children said that they were under too much pressure at school and in cram schools, while some were afraid of being bullied in school or punished by teachers.
"What these children want is merely better treatment and more respect," Wang said. "They have the right to ask for that."
A group of children, hoping to voice their rights, gathered at the conference holding up signs with requests written on them ranging from "I hope that my parents will listen to me and respect me" to "I wish I had more pocket money and more time to watch TV or play computer games."
1,071 children were polled, and the survey had a 3 percent margin of error.
Comments will be moderated. Keep comments relevant to the article. Remarks containing abusive and obscene language, personal attacks of any kind or promotion will be removed and the user banned. Final decision will be at the discretion of the Taipei Times.