Taiwan needs more support, US official says
INSECURITY The lack of overt support for Taiwan from Western democracies has contributed to the nation's domestic political struggles, a former US diplomat said
The US, Japan, the EU, Australia and other democracies should be more supportive of Taiwan's democracy to prevent it from being absorbed by China, a former US diplomat said. He added that should such a fate occur, it would be a "grave historical mistake" on the part of Western democracies.
John Tkacik, Jr, a retired US diplomat who served in Taiwan and China and is now a senior research fellow at the US Heritage Foundation's Asian Studies Center, said in a recent interview with the Taipei Times that the US and other Western democracies are partly to blame for Taiwan's political conflict, which has prevented a consensus on self defense.
Tkacik was in Taiwan for the three-day meeting of the Taiwan-US-Japan Strategic Dialogue held by a private think tank in Taipei last week.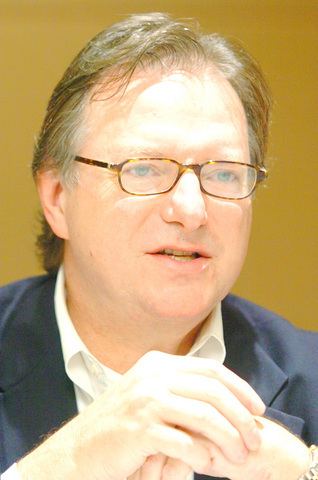 John Tkacik Jr, a senior research fellow at the Asian Studies Center of the US Heritage Foundation, speaks during an interview with the Taipei Times on Wednesday.
PHOTO: SEAN CHAO, TAIPEI TIMES
"I have to admit that there is a factor that is in America's control, Japan's control, Europe's control and Australia's control, which is the amount of support we give to Taiwan's democracy. If we were to treat it with a bit more respect and a bit more dignity, and take it with a bit more seriousness, I think the people of Taiwan will feel a bit more comfortable in forming" a consensus on self-defense, Tkacik said.
Tkacik said that the gravest challenge Taiwan faces today is the tremendous domestic political force that favors unification, and perhaps believes Taiwan's future is best guaranteed by China and not by the Western democracies.
He said the visits to China by opposition party leaders -- in which they reached some kind of understanding with China and then stated that Taiwan will not need to make military expenditures because China has promised not to invade -- sends a message to the US and its allies that "they prefer Taiwan's security be in the hands of Beijing and not in the hands of Washington, Tokyo or the Western allies."
The logic of these political leaders, Tkacik said, was that the relentless pressure from China has become too great, so they have decided to "go quietly" by giving up preparations for self-defense.
This process is "peaceful," but it is not in the interests of democracies to see Taiwan "bullied" into such a relationship with China, he said.
"Now both Japan and the US have said they have a common strategic objective of seeing a peaceful resolution of differences in the Taiwan Strait. And I say when all you're focusing on is peace and a peaceful resolution, all you're focusing on is the process," he said.
"But we in the US, our allies in Japan and our fellow democracies in Asia have a stake not in the process, but in the outcome. It can not be in the interests of Western democracies to see one of Asia's most vibrant democracies bullied into a new relationship by Asia's biggest dictatorship," Tkacik said.
Tkacik said if Taiwan wants to maintain its democracy, it won't be done by making peace a priority; rather, it will be by being prepared to defend itself.
Using post-Napoleonic Europe as a metaphor, Tkacik said, "Henry Kissinger once pointed that in an international system where peace is the priority, the entire system is victim to the one actor who is the most ruthless. If you are in East Asia, and the most ruthless actor in Asia is threatening war if it doesn't get what it wants, the answer is not to give it what it wants; the answer is to stand up to it."
The development of the political inclination toward China, Tkacik said, was partly due to Taiwanese people's lack of confidence and pride in their capacity and achievements, which was a result of the lack of support from fellow democracies.
He said that if one day Taiwan were to be absorbed by China, the fact that Western democracies had not been as supportive of Taiwan's democracy as they should have been will be looked upon as a "grave historical mistake."
He further lashed out at the failure by the US, Japan and Australia to insist that Taiwan's president be able to attend this year's APEC informal leaders' summit in Pusan.
China's complaints had caused these countries to "pee in their respective pants," he added.
"That is not treating Taiwan as a co-equal partner in APEC as is required by the APEC bylaws of 1988 and as is required under the instruments that permitted Taiwan and China to join in 1991. We cringed. That sort of things happens all the time to Taiwan. It is a disgrace and stain on the honor of Western democracies to allow this to happen," Tkacik said.
Comments will be moderated. Keep comments relevant to the article. Remarks containing abusive and obscene language, personal attacks of any kind or promotion will be removed and the user banned. Final decision will be at the discretion of the Taipei Times.