Taiwan Quick Take
■ Society
Lee arrives in New York
Former president Lee Teng-hui (李登輝) and his wife arrived in New York on Friday on the second leg of their two-week private trip to the US. Lee and his wife were greeted by Tsai Jen-tai (蔡仁泰), an adviser to President Chen Shui-bian (陳水扁); Chang Ya-feng (張亞鳳), chairwoman of the Friends of Lee Teng-hui Association in New York; and nearly 30 other supporters in the city. Before arriving in New York, Lee visited Anchorage, Alaska where Governor Frank Murkowski, a staunch supporter of Taiwan, gave him a warm welcome and played host. Lee was scheduled to visit "Ground Zero," where the World Trade Center once stood, yesterday.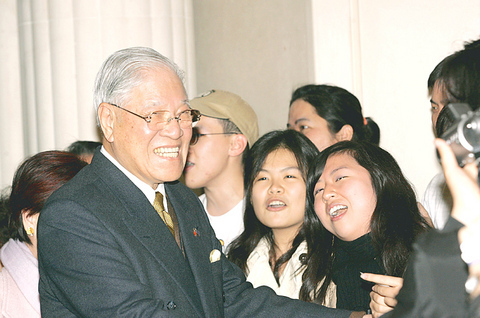 PHOTO: AP
■ Health
Teen suicide rate a concern
A mental health survey released by the National Taiwan University Hospital (NTUH) yesterday found that nearly 20 percent of teenage girls have been suicidal in the past year, and among them 6 percent have attempted suicide. The survey was publicized yesterday at a conference held in Taipei to address issues concerning depression and suicide prevention for children and teenagers. Professor Chiu Yen-nan (丘彥南) of NTUH's Psychiatry Department released the results of an investigation into depression-related suicides in children and teens, which found that teenage girls had more suicidal tendencies than teenage boys. However, boys are up to three times more likely to succeed in killing themselves than girls.
■ Defense
Military removing munitions
The military will continue to dispose of outdated ammunition, land mines and vacant barracks on Kinmen to help boost development and tourism on the frontline island, a military official said yesterday. Wu Ta-peng (吳達澎), commander of the Kinmen defense command, said that the command has shipped 3,300 tonnes of unserviceable ammunition since April from Kinmen to Taiwan for disposal. While 1,800 tonnes of outdated ammunition has been destroyed so far on Kinmen, the command is planning to dispose of another 1,000 tonnes next year to reduce the danger to local residents, Wu said. In addition, Wu said the military had completed an inspection of the minefields on Kinmen in May and decided to funnel NT$470 million starting next year to clear the land mines over a three-year period.
■ Society
Sex recruitment denied
The chief pastor of the South Korean Jesus Morning Church in Taiwan yesterday denied accusations that the church was involved in sexual misconduct by recruiting young female university students who allegedly were to be sent to South Korea to be sexually assaulted by the church's religious leader. The church's chief pastor in Taiwan Lin Huei-chuan (林暉川) yesterday denied media reports that the church recruited new members by holding beauty competitions in university campuses and through its football teams for sexual purposes. Chung Myung-seok (鄭明析), founder of the South Korean Jesus Morning Star Church (南韓攝理教會), has been wanted by police in South Korea and Taiwan for 10 years for sexually assaulting his female followers.
Comments will be moderated. Keep comments relevant to the article. Remarks containing abusive and obscene language, personal attacks of any kind or promotion will be removed and the user banned. Final decision will be at the discretion of the Taipei Times.