Groups call for the establishment of the `Taiwan Republic'
Pro-Taiwan independence groups yesterday unveiled a Web site, T-shirt and calendar in their campaign to promote the idea of the "Republic of Taiwan."
"The [Republic of China] ROC died in 1949. It's so absurd that the ROC has haunted Taiwan for 56 years," said Peter Wang (王獻極), convener of the 908 Taiwan Republic Campaign, at a press conference yesterday.
"We all know that, according to the San Francisco Peace Treaty signed in Sept. 8, 1951, Japan renounced its claim to Formosa and to Pescadores, which means that Taiwan has been an independent ever since."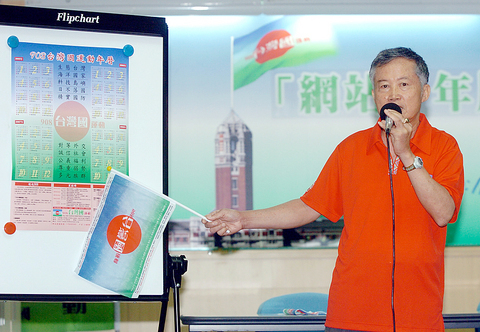 Peter Wang, the convener of the 908 Taiwan Republic Campaign, calls on the public to push for the Taiwan's formal independence yesterday.
PHOTO: LO PEI-DER, TAIPEI TIMES
Wang appealed to the public to discard the "unreasonable" Min-Kuo calendar system introduced to Taiwan when the Chinese Nationalist Party (KMT) fled to Taiwan in 1949. He also called on the public to consider Sept. 8 "Taiwan Republic" independence day.
The campaign organizers chose Ferrari red as the color of the T-shirt, as red symbolizes enthusiasm, sincerity, and bravery. The snake logo on the collar signifies respect for Taiwan's Aboriginals, and is also a sacred spiritual sign of the Rukai Tribe (魯凱族), Wang said.
"We plan to take a sightseeing tour to Pengjia Isle (彭佳嶼), Huaping Isle (花瓶嶼) and Mianhua Isle (棉花嶼) to awaken the Taiwanese consciousness," Wang said.
"On Sept. 8, we are going to hold a flag-raising ceremony for the `Republic of Taiwan' on Ketagelan Boulevard in front of the Presidential Office. This day is significant because it is the 54th anniversary of our independence, and a candlelight gathering is planned for 7pm on the same day," Wang said.
Information about the groups can be found at http://908taiwan.org.
Comments will be moderated. Keep comments relevant to the article. Remarks containing abusive and obscene language, personal attacks of any kind or promotion will be removed and the user banned. Final decision will be at the discretion of the Taipei Times.