US senators grill Bolton over Taiwan
CONFIRMATION HEARINGS The nominee for UN ambassador was questioned on his past support of Taiwan's membership in the world body and the WHO
The writings of US State Department official John Bolton when he was a private citizen in the 1990s advocating Taiwan's membership in the UN and World Health Organization (WHO) came under questioning in the US Senate on Monday, as the Foreign Relations Committee opened hearings on his nomination to be the next US ambassador to the UN.
Bolton, the undersecretary of state for arms control and international security, is one of the Bush administrations' most ardent supporters of Taiwan.
In an opening session of a confirmation hearing expected to last three days, three senators raised questions about Bolton's writings in the 1990s, when he was a scholar with conservative think tank, the American Enterprise Institute, and periodically wrote paid articles for former president Lee Teng-hui's (李登輝) administration to argue for Taiwan's entry into the UN.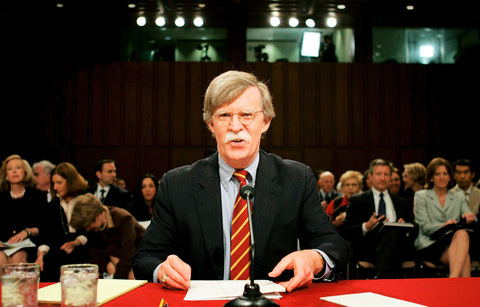 John Bolton, nominated to be the US ambassador to the UN, prepares for questioning by senators on the Senate Foreign Relations Committee during his confirmation hearing on Capitol Hill in Washington on Monday.
PHOTO: EPA
Under questioning, Bolton asserted that he still retains those views as a private individual, but now must follow the policies of the Bush administration, which are at odds with his own feelings.
The administration does not believe that Taiwan should be a UN member, and feels that Taiwan's WHO status should only be as an observer.
The first Taiwan-related question came from moderate Republican Lincoln Chafee, a key swing vote in the committee, who could, if he voted against Bolton, block his nomination.
Chafee began his questioning by asking about Bolton's 1990s contention that Taiwan meets the requirements of statehood and is eligible for UN membership.
Bolton said that those were his private views.
"I don't back away from the opinion, but time and tide have moved on," he said.
"President Bush has expressed his view on the relationship between Taiwan and China ... I think when a person comes into the government, either fresh, or when you go into a new position, just because you've had an opinion 10 years before doesn't give you the chance to say, `Okay, let's start over at square one and talk about my opinion.' I know what the president's policy is and I'm prepared to follow it," he said.
Republican George Allen, a co-founder of the Senate Taiwan Caucus, later asked about Bolton's prior support of Taiwan joining the WHO.
"The administration's position has been to support Taiwan becoming an observer in the WHO," Bolton responded, saying he supported that position.
When Democrat Paul Sarbanes asked, "I though you supported them being a member," Bolton repeated that he wrote that as a private citizen in the 1990s.
"When I wrote it then, I understood it. The president has made his policy on this very clear, and I support his policy," Bolton said.
Allen then said he would be "personally happy if they were a member, but if we have them as an observer, they certainly ought to be involved. Especially with the SARS epidemic, they can be very, very helpful."
"And the fact that China is so paranoid about it should not be of any consequence when we're concerned about world health," he said.
Asked about Chafee's decision to lead off with a Taiwan-related question, the senator's spokesman, Stephen Hourahan, said there was no significance to it.
"The senator has been very concerned about the situation over there, and that's the only thing I can say," he told the Taipei Times.
Hourahan said Chafee still "would like to support" Bolton and "now we're just waiting to see."
Prospects for Bolton's confirmation have been clouded by his past severe criticism of the world body and tough personal style, and by charges that he tried to distort intelligence reports on weapons of mass destruction regarding Iraq, Cuba and other countries to fit his own agenda.
The committee, which must approve the nomination before it is sent to the senate floor for a confirmation vote, has eight Democrats, who are expected to reject Bolton's nomination. If one of the 10 Republicans joins them, the committee will be tied and the nomination could not go to the senate floor. Chafee has been wavering on Bolton, and his nay vote would tie the committee.
Comments will be moderated. Keep comments relevant to the article. Remarks containing abusive and obscene language, personal attacks of any kind or promotion will be removed and the user banned. Final decision will be at the discretion of the Taipei Times.