`Little sister' Chiu's liver saves girl's life
LIFE AFTER DEATH The liver of the 4-year-old girl whose death caused a public outcry was yesterday successfully transplanted into a 6-year-old recipient
A 6-year-old girl in Kaoshiung successfully underwent liver transplant surgery yesterday with a liver donated from the 4-year-old girl who died on Sunday after being in a coma for two weeks following a severe beating by her father. \nIn a nearly seven-hour operation, surgeons at Kaohsiung Chang Gung Memorial Hospital transplanted the liver donated from the child, surnamed Chiu, who was declared brain dead after a complicated medical procedure on Sunday. The liver recipient is now recovering in the hospital's intensive care unit. \nThe family of the four-year-old Chiu agreed on Sunday to donate her organs after the child was pronounced brain dead by officials of the Taichung hospital where the abused child had been treated over the past two weeks after being refused admission to several hospitals in Taipei. \nChiu's father has been arrested on charges of child abuse and grievous bodily harm, while a number of medical professionals and officials in Taipei have been disciplined for negligence. \nMeanwhile, a 55-year-old woman at Taichung Veterans Hospital successfully underwent kidney transplant surgery with a kidney donated by the ill-fated child. \nChiu's body was escorted back to Taipei on Sunday by Chang Hang (張珩), director of the Taipei City department of health, who resigned as a result of the public outcry over the abused child being denied admission to several hospitals in Taipei in the first crucial hours after she was beaten. He was accompanied by Hsueh Cheng-tai (薛承泰), director of the municipal bureau of social affairs. \nChang said Chiu's ordeal highlighted many flaws and deficiencies in the nation's medical system and alerted the central and local governments to take necessary steps to plug the holes. \n"We'll not let the girl die in vain. We have worked out 10 measures, including strengthening the hospital transfer network in the emergency medical system to prevent recurrence of a similar tragedy," Chang said. \nChiu's ordeal triggered an uproar which led to an investigation into why the 4-year-old was refused treatment when there were sufficient beds in Taipei hospitals. \nThe Cabinet-level Department of Health announced on Friday that it would make changes to the existing system for patient transfers. The new system will take effect in June. \nMeanwhile, Chiu Kwang-jen (邱光仁), the dead girl's father, yesterday filed an application to prosecutors asking for permission to see his daughter's body. \n"He isolated himself but kept on praying when he heard that his daughter passed away," said Chiu Wen-chen (邱文禎), deputy director of the Taipei Detention House, where the father is being held. \n"He requested to see his daughter's body. Since he is a detained defendant, not a prisoner, he will be able to do so if prosecutors grant his application," he said. \nTaipei Prosecutor Hou Shao-ching (侯少卿) is leading the investigation. As of press time yesterday, she has not approved the request but said that she will "think about it." \nIn the meantime, Hou as well as coroners will carry out an autopsy on the girl's body at 2:30pm today to complete the legal process before the corpse can be cremated and buried. \nThe result of the autopsy will become evidence in the case, in which Chiu currently stands indicted on a charge of grievous bodily harm. \nHowever, since the little girl passed away, the charge may be changed to one of negligently causing her death, which carries a potential life imprisonment sentence. \nIn the meantime, the girl's mother said that, in addition to applying for compensation from the government, she will file a lawsuit against the Taipei City Government and the doctors who failed to treat the girl for their negligence.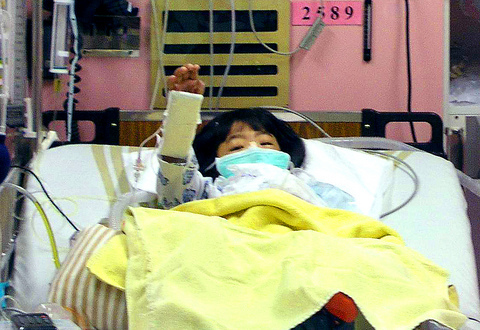 A 6-year-old girl surnamed Chiu recovers yesterday after receiving a liver from another little girl, also surnamed Chiu, who was the focal point of a recent medical scandal that rocked the nation.
PHOTO: HONG CHEN-HONG, TAIPEI TIMES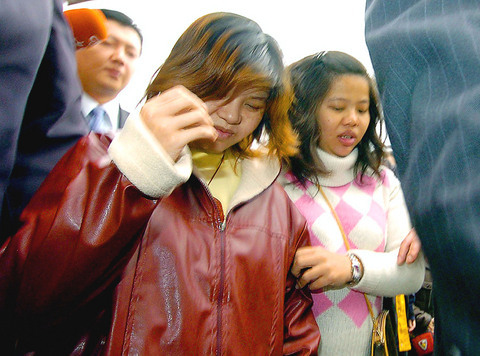 ``Little Sister'' Chiu's mother, center, and aunt, right, leave the girl's mourning hall in Taipei in the company of funeral directors.
PHOTO: WANG MIN-WEI, TAIPEI TIMES
Comments will be moderated. Keep comments relevant to the article. Remarks containing abusive and obscene language, personal attacks of any kind or promotion will be removed and the user banned. Final decision will be at the discretion of the Taipei Times.