Nantou tourism tries to rebound
Nearly one month after Tropical Storm Mindulle hit Taiwan and inflicted heavy losses on the tourism industry, the Nantou County government and local hotel operators teamed up yesterday to announced affordable package tours of the area yesterday in an effort to attract more tourists before the peak summer season ends.
"All scenic spots and recreation areas are open to visitors now. Roads are repaired and services to entertain our guests are ready," said County Commissioner Lin Tsung-nan (林宗男) at a press conference in Taipei yesterday.
"The tropical storm wreaked havoc only on certain remote villages in mountainous areas, like Renai township and Hsinyi township. Not all recreational areas suffered as badly as was reported in the media," Tourism Bureau Deputy Director Hsu Ming-hai (許銘海) said.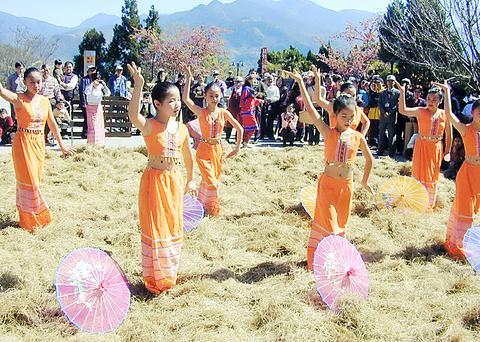 Dancers from the Nantou County-based Cingjing Farm puts on a performance yesterday to promote the area's tourist industry.
PHOTO: TUNG CHEN-KUO, TAIPEI TIMES
According to county officials, exaggerated reports about damage caused by Mindulle misled the public and harmed Nantou County.
"The snake kiln in Shui-li township is unharmed, but television said it was destroyed in flooding during the storm," said Lai Shu-Jung (賴樹榮), section chief of county's public relations department.
Other reports said that poverty-stricken villagers had had to eat snails to survive.
"This is absolutely a distortion. It is our local custom to take a delightful bite of snail while drinking. Reporters from other counties did not get the whole picture," said Lo Ya-nan (羅雅南), director-general of the county's press bureau.
"Though the typhoon caused damage to some parts of our mountain landscape, Nantou as a whole is a safe place for travel," the county commissioner said.
To lift local tourism out of its slump, the government has joined with local hotel operators to offer 20 percent to 50 percent discounts on package tours. A one-night stay with meals at Sitou Forest Recreation Area costs NT$999, and a ticket to Formosan Aboriginal Culture Village costs NT$350.
Nantou attracted 7.36 million tourists last year. The government's goal is to attract 10 million this year.
"Tourism and agriculture are the two engines of Nantou's economy," said Lin Kuo-long (林國隆), chairman of Tourism Industry Alliance of Nantou County.
When asked if development related to tourism will harm the environment, Lin said that more investors now realize the importance of ecological protection. "They also hope their hotels can ride out storms and floods. No one wants to see their efforts buried in landslides or mudflows. For example, new small family-run inns surrounding the Cingjing Farm have planted tens of thousands of trees in the uplands beyond the rolling, grassy hills," Lin said.
Comments will be moderated. Keep comments relevant to the article. Remarks containing abusive and obscene language, personal attacks of any kind or promotion will be removed and the user banned. Final decision will be at the discretion of the Taipei Times.