Activists protest reactor Japan reactor
NUCLEAR FALLOUT Members of a coalition of environmental groups protested the arrival of equipment of for the Fourth Nuclear Power Plant
Anti-nuclear activists yesterday protested outside Japan's Interchange Association in Taipei, accusing Japan of exporting "deficient nuclear reactors" to Taiwan.
A reactor pressure vessel arrived in a wharf in Kungliao, Taipei County, several days ago and was scheduled to be handed over to the Taiwan Power Company yesterday and then delivered the Fourth Nuclear Power Plant under construction nearby.
Yesterday morning, dozens of activists from the No Nuke Taiwan Union performed a skit outside the association's Taipei office to oppose Japan's exporting of nuclear reactors to Taiwan. The union is comprised of dozens of local environmental groups formed earlier this year.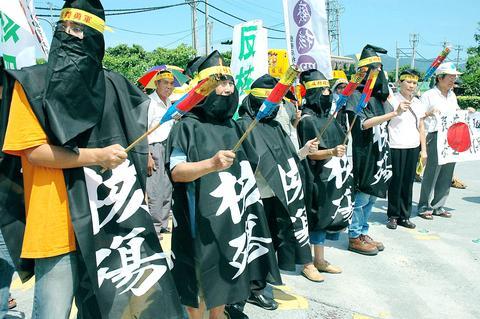 Members of the Yenliao Anti-Nuclear Self-Help Association protest in front of the construction site of the Fourth Nuclear Power Plant, in Kungliao Township, Taipei County, yesterday. The group alleges that the plant is not safe and could be prone to accidents. ``Nuclear Hazard'' is written on their costumes.
PHOTO: CNA
Two performers wearing the national flags of Japan and the US trampled on a performer lying on the ground and wrapped in the flag of ruling Democratic Progressive Party (DPP).
"Useless government! Allowing others to be trampled on!" activists shouted.
According to Chen Jiau-hua (陳椒華) of the Taiwan Environmental Protection Union (TEPU), two reactors that will to be installed at the plant were designed by the US company GE and built by the Japanese firms Hitachi and Mitsubishi.
"The safety of such a reactor type, known as advanced boiling-water reactor, cannot be guaranteed," Chen said.
Activists said that a similar reactor installed at a nuclear power plant in Kashiwazaki, Japan, had resulted in several nuclear accidents.
The activists' demonstration received no response from the association. Aside from the performance the activists gave statement to an office security guard, who promised to pass it onto his managers.
Afterward, activists burned several paper Japanese national flags with anti-nuclear slogans written on them.
Meanwhile, other activists also protested in front of the Fourth Nuclear Plant's construction site yesterday afternoon to show their anger.
Lin Yuan-te (林源得), Taipower's deputy manager for the Lungmen Construction Office in Kungliao, told the Taipei Times yesterday the reactor would be unloaded and transferred to the construction site today. Lin said there would be no problem with the transport, and did not anticipate that angry residents or activists would interfere.
Lin said that about 58 percent of the plant project had been completed.
"The progress remains 8 percent behind the original design. The plant's opening date, which was set to be July, 2006, will be postponed," he said.
How long the launch of the plant will be delayed remained uncertain, Lin noted. However, the first reactor will be assembled by the end of this year.
Comments will be moderated. Keep comments relevant to the article. Remarks containing abusive and obscene language, personal attacks of any kind or promotion will be removed and the user banned. Final decision will be at the discretion of the Taipei Times.