`Threats never bring reconciliation'
Lord John Alderdice, deputy president of Liberal International, a world federation of liberal political parties, visited Taiwan last week to participate in the Liberal International Asian Conference that was held in Kaohsiung. Alderdice also serves as the speaker of the Northern Ireland Assembly. Alderdice talked to `Taipei Times' staff reporter Chang Yun-ping about the Democratic Progressive Party's (DPP) current presidential campaign. The DPP joined the federation in 2001 and President Chen Shui-bian was awarded its international freedom prize in the same year.
Taipei Times: You were here four years ago to witness President Chen Shui-bian's (陳水扁) first presidential campaign. What do you think of his second campaign and its meaning for Taiwan's democratization? \nJohn Alderdice: The previous election was an extraordinary event, not just for Taiwan, but it was also very important for Chinese communities worldwide. What President Chen did by winning a democratic election was to demonstrate that democracy is not something alien to the Chinese people. On the contrary, when the Chinese people have the opportunity to elect a government democratically, they do so with enthusiasm. \nPresident Chen's election will represent the best hope and future for the people of Taiwan. In the four years since he was elected, Chen has been successful in bringing Taiwan and the views of Taiwanese people onto the international stage. This has not been easy, because it's no great secret that Beijing does not assist the people of Taiwan to present their views of Taiwan internationally. \nIn a very gracious and courteous way Chen has helped to point out that Taiwan has led the way in democracy for the people of China. It's been appreciated. In Europe there has been a greater understanding of the issues from a Taiwanese point of view. I think the way President Chen and Vice President Annette Lu (呂秀蓮) have conveyed the situation has raised awareness of it throughout the world. \nTT: Chen's opponents criticized him for performing badly in the past four years and now demand a change of power, but the president insisted that four years are not enough to allow him to bring about the necessary reforms. What do you think of this? \nAlderdice: I think for most governments in democratic countries, four years is a relatively short time to achieve major changes. That was one of the comments, for example, that [British Prime Minister] Tony Blair was making when the election came up for him some time ago -- that he had started after many years of Conservative government. But he needed a second mandate. \nThe United States constitution also recognizes that the president may serve, if they are elected, a second mandate but not more -- which I think recognizes that four years is really not enough for someone to achieve what they want to achieve. \nTT: China is still posing a military threat to Taiwan. Chen has taken a strong stance on Taiwan's sovereignty, but his rival, Chinese Nationalist Party (KMT) Chairman Lien Chan (連戰), asserted that the controversial sovereignty issue should be put aside to resolve the stalemate in cross-strait dialogue. What's your view on this? \nAlderdice: My experience [in the Northern Ireland peace talks] was that as long as people were trying to force others to accept their position, there could be no reconciliation for peace. For some centuries, Britain tried to force its will on the island of Ireland. But that was not successful. We had the IRA terror war for 30 years, and that didn't work either. \nIn the end, everyone has to recognize that the principle of consent is critical to the resolution of any problem. Whatever outcome is achieved, people have to have a say over their own sovereignty. With sovereignty I mean the sovereignty of a country. It's not the sovereignty of a party, not the sovereignty of a piece of ground. It's the sovereignty of the people. \nAnd you don't bring the people together by forcing them together. Once we came to that very fundamental democratic understanding, we could go on to have a possibility of talks. Sometimes it takes a long process of a negotiation, but threats, violence or political force never bring peace or reconciliation. That's been our experience. \nTT: So do you think the Tai-wanese people should make their own decisions on independence? \nAlderdice: I get the sense that in Beijing there is an assumption that if the people of Taiwan are allowed to make decisions about their own future, that will inevitably mean that they will become independent. That might well be the future, because it doesn't say very much for the confidence of people in Beijing about the attractiveness of their offer [for unification with Taiwan]. \nI was always struck by those countries that have to put wars around themselves to keep their people in. It doesn't suggest they are a very attractive place. There are other countries that have to build barriers to keep people out, because so many people want to come. \nThat says something about the attractiveness of those countries. What we always want to see is people becoming self-confident and being able to build relationships. And if things in China are attractive, free and people are given the opportunity, why shouldn't it be something that's appealing? \nBut if it is conveyed as something authoritarian and restrictive, of course it may not be very attractive to people in Taiwan. \nTT: Do you think the referendum would help the Taiwanese to build up self-confidence? \nAlderdice: It seems quite clear to me that if a country wants to have a referendum, wants to consult the people about what they think it entirely has the right to do so. I am always suspicious when another country says, "No, you can't ask people what they think." Why not? The referendum is a matter for the people here to decide. It's a matter for the people here, not for the people in Washington or London or Beijing or anywhere else to say, "No, no, you can't express your wishes, you might get it wrong, you might make a mistake, and you might say something that we don't want to hear." That's not very democratic. \nTT: What do you think of the 228 Hand-in-Hand Rally, in which nearly 2 million people came out to protest China's military threat? \nAlderdice: I was struck by a comparison in my own mind. In the run-up to the war on Iraq, Prime Minister Tony Blair told us that within 45 minutes there could be warheads operations from Baghdad. The result of that was to have a war. That's one way of dealing with the problem. \nWe are here in Taiwan, where we know without any shadow of a doubt that it is a question of seven minutes, not 45 minutes. It's not a question of maybe there are [missiles], maybe there aren't. It's quite clear. And what's the result? The result is people holding hands across the island. The result is having a democratic referendum. \nNow that's a very liberal way of dealing with things. That's not going to war. That's a very peaceful way of expressing people's views. I think it's a very reasonable and constructive way to respond. \nThe fears of Taiwanese people are understandable, and they respond in a peaceful demonstration like this. Of course that's the right way and the best way. What is the alternative? To say nothing? It seems to me what that protest will say is not "we don't want to have a relationship with you," it seems to me it says, "Don't you understand that a fist is not the way to build a friendship? It's holding hands together that's the way to build a friendship." \nTT: Here in Taiwan we have the debate about whether the referendum is legal. A referendum would usually address the controversial nature of a question. But here the opposition parties claim that the referendum doesn't serve that purpose. In view of this, do you think the referendum should still be held? \nAlderdice: The wording of a referendum is of course very important. In politics, if you think you are going to lose a referendum, what you usually do is complain about the wording. To say that the wording is very bad usually means "I think I am going to lose." \nSo if there are people here who say that it's not a legal referendum, the wording is wrong and not the right questions and so on, that suggests to me they are not very confident that they are going to win. Because if they are confident that they will win, I don't think you will hear those arguments. These are very old political tricks that are made all over the world. We all see them everywhere.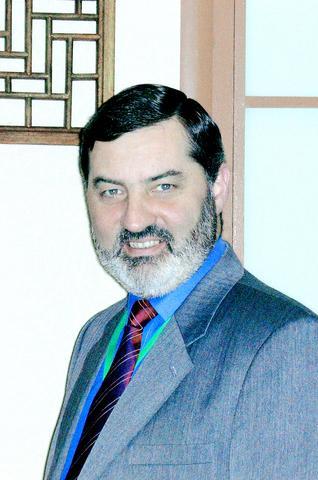 Lord John Alderdice, deputy president of Liberal International and speaker of the Northern Ireland Assembly. He has been actively involved in the Northern Ireland peace process and was one of the key negotiators of the Belfast Agreement signed on Good Friday in 1998.
PHOTO: YUN-PING CHANG, TAIPEI TIMES
Comments will be moderated. Keep comments relevant to the article. Remarks containing abusive and obscene language, personal attacks of any kind or promotion will be removed and the user banned. Final decision will be at the discretion of the Taipei Times.