Sex workers of the world unite -- at Taipei festival
RIGHTS PUSH Sex workers say presidential candidates should cough up their opinions on laws banning the sex industry, and international support is on the way
In the lead-up to a sex worker festival and rally, members of a women's rights organization joined sex workers yesterday in an appeal to presidential candidates to introduce legislation legalizing the sex industry. \nWang Fang-ping (王芳萍), the secretary-general of the Jihjihchun Association (日日春), which fights for the rights of licensed prostitutes, laborers and housewives, said presidential candidates should amend Article 80 of the Social Order Law (社會秩序法) so that neither prostitutes nor their patrons would be punished for engaging in sexual relations. \nUnder the law, Wang said, only those who provide sexual services are punished. \nThis was against world trends, as most advanced countries were legalizing their sex industries and protecting the interests of sex workers, she said. \nWang also criticized the Taipei City Government for what she called its failed attempts to crack down on illegal sex workers, pointing out that even though licensed prostitutes and other businesses had been put out of action, the city had not become "cleaner" in the process, instead making the illegal sex trade become "even more frenzied." \nWang said a rally of sex workers would be held on Saturday to take their appeal to the public. \nDuring the rally, the responses of the presidential candidates to the sex workers' appeal would be announced, she said. \nThe rally is part of a five-day festival, starting Thursday, demanding respect for sex workers' rights, with sex workers from nine countries or regions participating. \nThe "International Whore Cultural Festival and Action Forum," organized by the Collective of Sex Workers and Supporters (COSWAS), would attract foreign and Taiwanese sex workers, social workers and people from all walks of life, Wang said. \nThe festival will also include forums, workshops and concerts in addition to the march. \nVisiting sex workers include individuals from the US, the UK, Germany, Switzerland, the Netherlands, South Korea, Thailand and Hong Kong. Groups include SWOP-USA (Sex Worker's Outrage Project), Aspasie from Switzerland, Empower from Thailand and People's Solidarity for Social Projects from South Korea. \nCOSWAS has held four international sex workers' festivals since 1998. Similar conventions have been held in India, Nepal and the Philippines. \nWang is well-known for her efforts to protect the rights of women working in the sex industry. \nDuring her campaign to sit on the Taipei City Council in late 2002, Wang championed legalization of the sex industry in Taipei. \nShe ran for a city councilor's seat representing the Chungshan and Tatung districts, which boast the largest number of brothels and other sex business locations in the city. \nShe was not elected.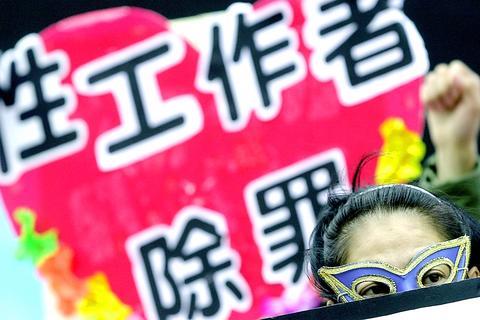 A member of the Collective of Sex Workers and Supporters marches underneath a placard reading ``Decriminalize sex workers'' during a demonstration in front of the Chinese Nationalist Party and People First Party's presidential campaign headquarters in Taipei yesterday.
PHOTO: LO PEI-TEH, TAIPEI TIMES
Comments will be moderated. Keep comments relevant to the article. Remarks containing abusive and obscene language, personal attacks of any kind or promotion will be removed and the user banned. Final decision will be at the discretion of the Taipei Times.