Penghu ready for growth, with or without a casino
While Penghu's English-speaking population constitutes a small minority of an already small community, two terms -- "casino" and "Las Vegas" -- seem to have transcended linguistic barriers on the offshore archipelago.
Years of heated debate on the issue of legalized gambling in Penghu have popularized the two terms, slowly integrating them into residents' vocabulary.
Given the widespread familiarity of Penghu residents with the county government's bid to establish legalized casinos, it came as a surprise to government authorities that only 21 percent of Penghu's eligible voters showed up to vote during Saturday's referendum on the issue.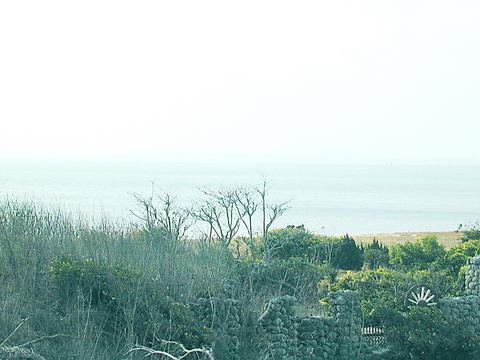 The site of Great Penghu, a soon-to-be-built five-star hotel and resort.
PHOTO: TAIPEI TIMES
The turnout for Saturday's referendum was only 21 percent. Organized and initiated by the county government's department of tourism, the referendum had been anticipated as an accurate and democratic representation of public sentiment.
When the ballots were tallied at the end of the day, 7,830 indicated support for the county government's continued bid to legalize casinos, while 5,984 voted in opposition.
POLITICAL EDUCATION
While scant referendum participation triggered a variety of explanations ranging from Saturday's cold weather to the large percentage of Penghu residents living in Taiwan proper, county councilor and former county commissioner Kao Chih-peng (高植澎) asserted that the results had brought to light other issues that deserve attention.
He explained that the resident's chilly response to the referendum revealed a need for more education on democratic processes.
"There were no candidates in the referendum and therefore no candidates to offer transportation allowances to voters," Kao said, referring to a common vote-buying tactic during which voters are compensated for their support under the guise of transportation fees.
Kao said that a similar vote on casino legalization in Penghu had been held last June in conjunction with the borough and village chief elections -- the turnout rate had been 49.6 percent. This election was criticized as unfair and residents had purportedly been allowed to vote more than once.
Penghu Tourism Department Director Lin Yaw-ken (林耀根) agreed that the lack of candidates was problematic in garnering voter participation.
boost participation
"In the future we should consider conducting referendums in conjunction with political elections to boost participation rates. Because there were no candidates, no one really had the incentive to mobilize votes," Lin said.
In addition, Shih Chao-hwei (釋昭慧), a founding member of the Alliance Against Legalized Gambling, said that voters did not completely understand the issue.
"A voter who had been mobilized to vote actually asked why the president's name was not on the ballot," Shih said.
Kao agreed that many voters in the rural areas did not understand the referendum process.
"A lot of voters in rural areas, some of whom are illiterate, are used to voting according to the photographs of candidates that appear on the ballot. They just did not understand how to vote on the referendum," Kao said.
REPRESENTATION
While 57 percent of those who voted were in favor of constructing casinos in the county, the results have triggered a debate as to whether the referendum results could be seen as representative of the opinion of Penghu residents.
"The county government will stick with what the council had originally decided -- a relative majority, not an absolute majority, will represent the opinion of Penghu residents," said County Commissioner Lai Feng-wei (賴峰偉).
Lin also said that several residents had expressed their concern over the validity of the results.
"I have to go by the results of the referendum even if only about 20 percent of eligible voters voted, because there is no other way of fairly gauging public opinion," Lin said.
However, while those who did not vote gave up their right to voice an opinion, the lack of participation has influenced the overall outcome of the referendum. Scant participation has had the effect of casting doubt as to the county government's mandate in pushing through the legalization of casinos.
"The results speak for themselves. They basically indicate that a percentage of a small percentage of Penghu agrees with legalizing casinos. That is hardly representative," Kao said.
problem
He pointed to another problem embedded in Penghu's democratic culture.
"The local press is funded by the county council, which is largely in favor of building casinos. Most of what gets printed advocates legalizing casinos," Kao said.
Another point of contention touches on whether Penghu county has the right to decide on the legalization of casinos given its impact on the entire nation. In a press statement released in response to the referendum results, Shih stressed that the legalization of casinos could only be decided by a referendum that took into account the voices of all Taiwanese voters, after thorough discussions had made clear what was at stake.
TOURISM PLANS
Opponents of legalizing casinos also said that the referendum had no legal force and served only as reference material for the central government when formulating policy.
Even Chinese Nationalist Party (KMT) Legislator Lin Pin-kun (林炳坤), a long time supporter of legalized casinos, agreed that in the future a nation-wide referendum on the issue should be staged in accordance with the Referendum Law (公投法).
Despite the results of Saturday's referendum, however, Penghu's department of tourism is prepared to battle the county's economic decline with or without the casinos.
"We've drafted two different plans for the development of tourism in Penghu -- one assumes we legalize casinos, the other that we do not," Lin said. He explained that tourism was one of Penghu's primary sources of income.
The tourism department's current tourism strategy includes plans to launch at least one full-scale golf course, promote its marine wildlife and establish a museum featuring ships that sank in the Penghu area. In addition, domestic and foreign companies have been contracted to build five-star hotels and country clubs in the area.
"If casinos are not legalized, tourism plans will be geared toward leisure activities. If they are legalized, then we will focus more on entertainment," Lin said.
However, Lin clarified that if casinos are legalized, a lot of the current tourism facilities and attractions would be insufficient, given the estimated growth in tourism figures.
"With casinos, we expect about 20,000 tourists per day during the peak season. Without casinos, the current development plans would allow for about 6,000 tourists each day during the peak season in about seven years' time," Lin said.
Ultimately, however, the county government's battle to secure casinos and economic development is far from over and awaits the central government's approval along with the necessary legislative changes.
Also see story:
Comments will be moderated. Keep comments relevant to the article. Remarks containing abusive and obscene language, personal attacks of any kind or promotion will be removed and the user banned. Final decision will be at the discretion of the Taipei Times.