Vietnamese girl helped in her fight against paralysis
MEDICAL RELIEF A charitable organization brought the sufferer of a spinal tumor to Taiwan for surgery, and the prognosis is quite good for the 14-year-old
Fourteen-year-old Vietnamese girl Huynh Thi Van looked small and delicate in her wheelchair with her disproportionally small feet, the result of muscular atrophy that comes from a long time sitting in this position. But she had a strong and lively expression, and she didn't shy away from the crowd. \nHuynh had suffered from a fleshy tumor in her lower spine. The tumor had applied so much pressure on her nerves that paralysis of her lower body resulted. \nHuynh was brought to Taiwan this month for treatment by Compassion International (至善基金會), a Taiwanese non-profit organization devoted to medical relief programs in Vietnam. \nHer tumor was then successfully removed. \nHuynh comes from a struggling family of six, including her parents, two brothers and a sister. Her parents are fishermen with an income of around NT$30 a day. Her older brother and sister are working in another city, but her younger brother, who is 11 years old, is unable to attend school because of their difficult financial situation. \nShe was born with the tumor but learned to take care of herself at an early age, moving herself around in a wheelchair. But she never went to school, and could only stay at home. \nRepresentatives from Compassion International found out about Huynh this year and brought her to Taiwan for treatment. After the operation, feeling started to return to her lower back, though she still requires a wheelchair to move around. \n"I am really grateful to Compassion International, the doctors and the nurses who helped me," Huynh said yesterday. \n"I hope I can go to school, learn how to paint, and help share my family's burden in future," she said. \nHuynh has shown a strong interest in painting. She also made some paper tulips to present to the people who helped her during her time in the hospital. \nHuynh's mother, Duong Thi Hanh, who has accompanied her daughter during her time here, also expressed her gratitude toward those who helped them. \n"When I first had my daughter, I didn't know she could be treated but I was determined I would keep her and raise her," Duong said. \n"When I found out she could come to Taiwan to be treated, I was happy and felt that there was hope for the future," she said. \nHuynh's doctor said that after the operation she showed good signs of recovery. \nHer nerves remained intact and undamaged, giving her a good chance of being able to walk someday in conjunction with an appropriate rehabilitation program, the doctor said. \nHuynh is scheduled to return to Vietnam tomorrow and will proceed with her rehabilitation with help from her family. \n"There are still many children like Huynh in Vietnam, and we hope the public can try to help them more," said Yuan Li-te (袁立德), deputy chairman of Compassion International. \nFor more information about the organization, visit www.citw.org.tw.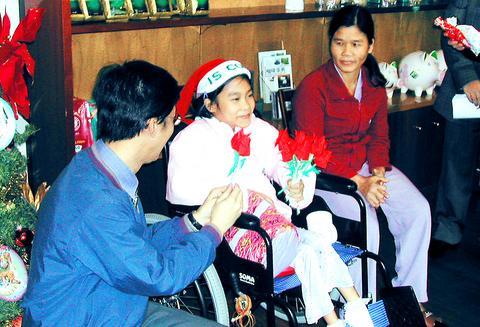 Huynh Thi Van, center, holds tulips she made to present to hospital staff and others while her mother, Duong Thi Hanh, right, looks on.
PHOTO COURTESY OF COMPASSION INTERNATIONAL
Comments will be moderated. Keep comments relevant to the article. Remarks containing abusive and obscene language, personal attacks of any kind or promotion will be removed and the user banned. Final decision will be at the discretion of the Taipei Times.