Baseball great has roots in ROC
HUMBLE SUPERSTAR Sadaharu Oh, one of Japan and the world's greatest baseball players, overcame prejudices against him because of his ROC passport to rise to fame
Sadaharu Oh (王貞治) is one of the most admired professional baseball players and coaches in Japan. Oh was born in Japan and grew up there, and he played for and coached the most prestigious professional baseball team in Japan, the Yomiuri Giants. He only speaks Japanese and he acts Japanese, yet he is an ethnic Chinese who carries an ROC passport.
Oh holds the world record for the most home runs ever hit as a professional, with a tally of 868. He is also most known for his unique "scarecrow" position when batting -- he raises his right foot and stands only on his left when hitting the ball.
He was the Yomiuri Giants' third bat during their glorious V9 period from 1965 to 1973, when the Giants won the Japanese championship for nine consecutive years. Shigeo Nagashima, his archrival, was the fourth bat in the team.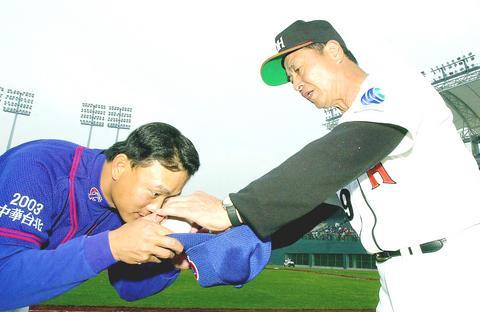 Baseball player Hung Yi-chung bows as he asks legendary Japanese baseball player Sadaharu Oh for an autograph.
PHOTO: CHANG CHUNG-YI, TAIPEI TIMES
The third, fourth and the fifth bats are the top sluggers in a team. Of them, the fourth is considered the best.
As a coach, he has won a league championship with the Giants, and three league championships, including two Japanese championships, with the Daiei Hawks.
Oh was born on May 20,1940 in Japan. Oh's father, Shifuku Oh (王仕福), was originally from Zhejiang Province in China and he managed a noodle shop in Tokyo.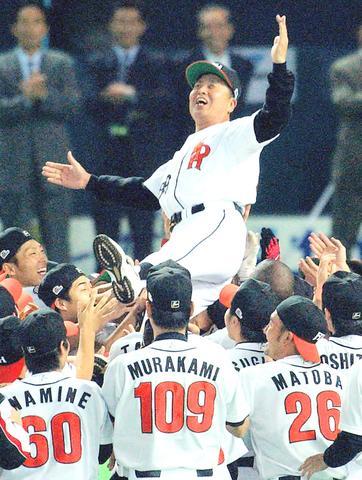 Sadaharu Oh is tossed into the air by his players at the Fukuoka Dome stadium in Fukuoka, Japan after his club, the Fukuoka Daiei Hawks, won the Japan Series championship last month.
PHOTO: REUTERS
"Oh's father had a strong love for China and carried a PRC passport. Yet he was worried about the unpredictable fate of the "two Chinas" and therefore got ROC passports for his children," said Li Shu-fang (李淑芳), a Taiwanese baseball commentator specializing in Japanese professional baseball.
"Oh has kept the ROC passport all his life because he thinks it is important to be a dutiful son and guard his father's ideal of not forgetting one's roots," Li said.
Oh cares a lot about Taiwan and its baseball. He would give guidance to the Taiwanese national team and players whenever possible. He also made it possible for the Daiei Hawks to play its regular in-season game against Orix Blue Waves in Taiwan last year as well as exhibition games with Taiwanese teams this year. When the Taiwan national team participated in the 2003 Asian Baseball Championship this month, the team was able to train in Fukuoka Dome, the Hawks' home base, with Oh's help.
Because of his influence in both Japan and Taiwan, Oh was appointed as ambassador without portfolio by President Chen Shui-bian (陳水扁) in 2001 to promote sport and exchanges between Japan and Taiwan.
Yet Oh's identity as a foreigner has disadvantaged him during his career.
Li pointed out that as early as in high school, Oh was prevented from participating in a national sports event because of his nationality.
Then, during Oh's time with the Yomiuri Giants from 1959 to 1980, he was the teammate of the much respected Japanese player Shigeo Nagashima. According to Li, although Oh often outperformed Nagashima in personal records, on at least two occasions Nagashima was chosen as the most valuable player at the end of the year although he had a poorer record than Oh.
Japanese people still consider Nagashima as Japan's real "Mr.Baseball," simply because he is well received as an authentic Japanese, while Oh is seen as somewhat of an outsider.
When Oh retired as a player in 1984, he took over the position of head coach of the Giants. With struggles among internal factions and because the Giants were a team with too glorious a past, Oh's only winning a league championship once during his five-year reign was heavily criticized, especially by his long-time rival Nagashima.
"Oh never cared about these things since he understood that it would be like this with his nationality, and it was always Nagashima who cared more about the competition between them," Li said.
Tsai Jung-lang (蔡榮郎), an amateur baseball association board member and an old friend of Oh's, also said that Oh was not the kind of man to care about fame and money. Tsai said that his old friend would not take winning or losing too seriously, and he did not complain or whine about losses.
"Oh is a humble person and he does not act like a star. He once told me that after he retired from professional baseball, he would devote himself to teaching children baseball and helping children who love baseball make their dreams come true," Tsai said.
"Oh is also a very disciplined person. For example, during the training period he would not allow himself to drink. If the training finishes tomorrow and he dines with friends today, he would not take a drink."
Lu Ming-shih (呂明賜), the former Taiwan national team slugger who used to play for the Yomiuri Giants under Oh's tutelage, said that Oh was an amicable man who cared a lot about his players.
"When I was experiencing a low point in my life, he comforted me and told me not to be pressured too much. He even brought me nutritious food at the time," Lu said.
"He is `yasashi' [Japanese word for gentle and caring], and he does not have an attitude like many superstars do."
Lu said that Oh also achieved a high status in Taiwanese baseball circles and Taiwanese baseball players admire and respect him.
Comments will be moderated. Keep comments relevant to the article. Remarks containing abusive and obscene language, personal attacks of any kind or promotion will be removed and the user banned. Final decision will be at the discretion of the Taipei Times.