Chang Si-liang slides into nation's top police post
APPOINTMENT In an unusual move, the Cabinet chose the head of the Aviation Police Bureau to become director-general of the National Police Administration
The Executive Yuan yesterday approved the appointment of Aviation Police Bureau Commissioner Chang Si-liang (張四良) as the nation's top-ranking police officer, effective today.
Outgoing National Police Administration (NPA) Director-General Wang Chin-wang (王進旺) will take up the position of the deputy chief of the National Security Bureau.
Chang's appointment to the top post for police officers was the front-page story for major Chinese-language newspapers on Saturday.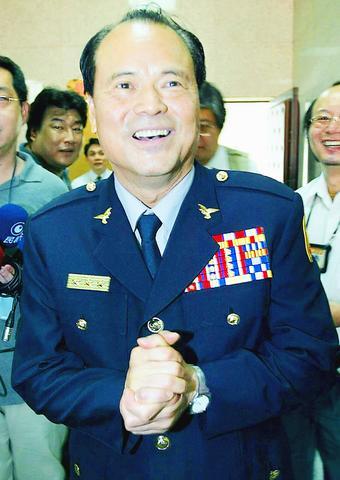 Former Aviation Police Bureau commissioner Chang Si-liang thanks his colleagues at his farewell party yesterday. Chang's new role as director-general of the National Police Administration begins today.
PHOTO: TONY YAO, TAIPEI TIMES
Chang's promotion was high-lighted because he would be the first APB commissioner to take over the top NPA slot.
Chang's advancement is equal to NPA's Criminal Investigation Bureau (CIB) Commissioner Hou You-yi's (侯友宜) promotion last month, when Hou became the bureau's youngest-ever commissioner.
According to the police-promotion system, NPA director-generals have usually been promoted from the job of CIB commissioner, Central Police University president, commissioner of Taipei City Police Department or Kaohsiung City Police Department. All previous NPA director-generals had one thing in common -- they were all criminal investigation experts.
When approached by reporters last Saturday, Chang tried to keep a low profile and said that he has not received any notice of a promotion from his supervisor.
"I actually learned of my `promotion' from the newspapers as well," Chang said. "To lead the 70,000 police officers in this country is definitely not an easy job, but I shall do my best if my superior officers really want me to do it. However, since the Ministry of the Interior has not announced the new NPA director-general, it is not proper for me to comment at this moment."
Like Hou, Chang studied in the criminal investigation department at Central Police University, but he graduated in 1965, 15 years earlier than Hou.
The 62-year-old Chang was born in Hsinchu but grew up in Taipei. After he finished college, he started his police career as a detective in the CIB.
Prior to his taking the APB job in 1999, he served as head of the Chungcheng Second and Taitung precincts of the Taipei City Police Department, as Hualien Police Department commissioner, APB deputy commissioner, Taipei City Police Department deputy commissioner and Third Peace Preservation Police chief.
Chang served as deputy commissioner of Taipei's Police Department under Wang. Hou was the chief officer of the city police's Criminal Investigation Division at that time.
Chang has earned public credit for his criminal investigation and public-relations expertise since his term as APB deputy commissioner.
Between 1993 and 1994, 12 Chinese jetliners were hijacked to this country. Chang was in charge of handling the hijacking cases. He was able to get the hijackers to surrender within a short time after their arrival, thereby assuring the safety of cabin crew and passengers alike and helped them return to China.
He also has a good relationship with the press.
During the 12 hijackings, he was spotlighted by the press because he provided key and immediate information for reporters.
Chang is regarded as an authority on anti-terrorism. After the Sept. 11 attacks on the US, Chang established an anti-terrorism mechanism for all the airports in this country.
With an easy-going personality, Chang enjoys making friends and this has helped him develop good relations and links to politicians and the business community. However, some critics consider him a sycophant.
Among Chang's close friends, the Evergreen Group (長榮集團) Chairman Chang Yung-fa (張榮發) and former NPA director-general Chuang Heng-dai (莊亨岱) are seen as key players behind his latest promotion.
Comments will be moderated. Keep comments relevant to the article. Remarks containing abusive and obscene language, personal attacks of any kind or promotion will be removed and the user banned. Final decision will be at the discretion of the Taipei Times.