Parties ready to crack the whip
VOTE-BUYING SCANDAL Spokesmen for the nation's major political parties said those found guilty of taking bribes in the Kaohsiung speakership race would be disciplined
With prosecutors digging up more evidence of "black-gold" in the Kaohsiung City speakership race through raids on suspects' homes, party leaders yesterday vowed to discipline members involved in vote-buying. \nSpokesmen for the country's three major political parties said yesterday that they support the prosecutors' investigation into the conduct of Kaohsiung City councilors. \nAfter councilors from the pan-blue camp supported scandal-ridden independent councilor Chu An-hsiung (朱安雄) in the race, just a week after KMT Chairman Lien Chan (連戰) proclaimed his party free of "black-gold," the party now says it is prepared to lose all its seats on Kaohsiung City Council, save one. \nAs Chu won the speakership with 25 votes, it is believed that he received 11 votes from KMT councilors, seven from PFP councilors, and eight from independent ones. \nKMT, which has 12 seats on the council, has scheduled to release on Tuesday a list of councilors that it found voted for Chu. \nThe PFP has also vowed to get tough with its councilors who supported Chu. \n"We will strictly discipline any party members found guilty by the prosecutors," PFP spokesman Hsieh Kong-ping (謝公秉) said. \nMeanwhile, the DPP, which has 14 seats on the council, yesterday sent Deputy Secretary-General Lee Chin-yung (李進勇) to Kaohsiung to deal with the incident. The move comes after cash suspected of being used in vote-buying was found at the residence of DPP council caucus whip Jan Yung-lung (詹永龍). \nDPP legislators yesterday appealed to the government and party officials to strictly punish those involved in vote-buying. \n"If the party doesn't strictly punish those councilors, DPP will be kicked out," DPP Legislator Tuan Yi-kang (段宜康) told reporters yesterday. \nTuan said that the nine DPP councilors who had attempted to supported Chu should be under suspicion. \nDPP Legislator Lee Wen-chung (李文忠) said, "whether those DPP councilors voted for Chu is not an issue anymore. The issue is whether they received money for votes. \n"The DPP should let its members understand that if they received money for votes, their political lives will be over," Lee said. \nTSU spokesman Hsiao Kuan-yu (蕭貫譽), meanwhile, criticized the three main parties over the incident. \n"The DPP's local members are opportunistic and fail to examine their own conduct, while the PFP and KMT just don't mean what they said about unseating Chu," he said. \n"Kaohsiung City Council won't be able to operate smoothly in the future. But prosecutors should investigate the case, otherwise politicians will totally ignore law and order," he added.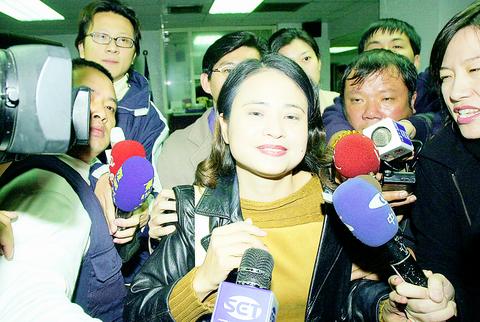 PFP Kaohsiung City Councilor Wang Ling-chiao is transferred to the district prosecutors' office yesterday for further interrogation.
PHOTO: CHANG CHUNG-YI, TAIPEI TIMES
Comments will be moderated. Keep comments relevant to the article. Remarks containing abusive and obscene language, personal attacks of any kind or promotion will be removed and the user banned. Final decision will be at the discretion of the Taipei Times.