Newsmakers: Anthropologist honored on birthday
DEDICATION Those who studied under the former NTU professor say he is the one they thank for the great progress Taiwan has made in the field of anthropology
When families and friends celebrated anthropologist Chen Chi-lu's (陳奇祿) 80th birthday late last month, the event involved more than just blowing out candles on a cake.
An international conference on anthropology was held simultaneously by National Taiwan University's (NTU) Anthropology Department to demonstrate its admiration for Chen, a NTU anthropology professor emeritus.
"The conference was a birthday present from us," said Hsieh Shih-chung (謝世忠), an anthropology professor at NTU and a former student of Chen's, speaking on behalf of all those who Chen had taught. "It's a great opportunity to showcase [to Chen] the fruits of Taiwan's anthropological work which he has helped cultivate over the past half century."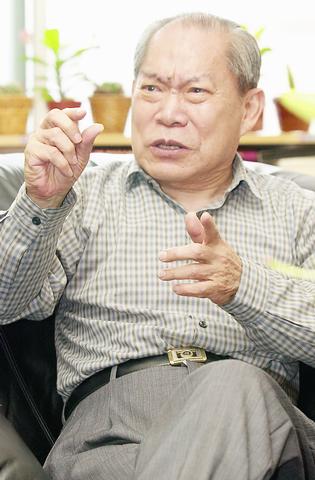 Anthropologist Chen Chi-lu says he first became interested in the subject in 1948 when working for Taiwan Public Opinion Journal, one of the country's first privately owned newspapers.
PHOTO: GEORGE TSORNG, TAIPEI TIMES
Chen, a member of Academia Sinica, is a respected scholar regarded by many as a pioneer in Taiwanese anthropology and historiography. With expertise in anthropology and Aboriginal arts, Chen's specialties and dedication in these fields have gained him numerous honors and awards.
Chen had taught at NTU since 1949 and many of his students have gone on to make a name for themselves in scholastic or cultural fields.
Lee Sha-li (李莎莉), a former student of Chen's, said it was Chen's lively class lectures that enticed many of his students to pursue related fields after they graduated.
"Many of Chen's former students are now either anthropology researchers, scholars or specialists working for the National Palace Museum, National Taiwan Museum, National Museum of History and places like that," said Lee, the head of the Exhibition Section at the National Palace Museum.
"It is fair to say that Chen was among the ones who sowed the seed of Taiwanese anthropology decades ago, which has resulted in today's anthropological development and progress in Taiwan," Tchen Yu-chiou (陳郁秀), chairwoman of the Council for Cultural Affairs, told the Taipei Times.
"In fact, it was also largely thanks to Chen's effort and dedication that the Council for Cultural Affairs established a firm and solid foundation under his leadership as the council's first chairman back in 1981."
Chen's dedication to the development of Taiwan's cultural arena especially impressed her, Tchen Yu-chiou said.
"Culture is an important national asset. And Chen has done much to introduce this notion to Taiwan through his notable scholastic work."
Other than his research in areas including East Asian prehistory, Chinese ethnohistory, Pacific cultural development and anthropological arts, Chen is also noted for his scholastic contributions to Taiwanese historiography and Aboriginal culture.
Among the numerous books Chen has written are Social Organization of the Thao of Sun Moon Lake, Woodcarving of the Paiwan Group of Taiwan, Old Glass Beads Possessed by the Paiwan Group of Taiwan and Material Culture of the Formosan Aborigines.
Besides conducting anthropological research, Chen also has a talent for drawing; He drew all his books' illustrations.
"Chen's grasp of detail [in his illustrations] is amazing," Pasuya Poitsono, deputy chairman of the Council of Aboriginal Affairs, told the Taipei Times.
"All those Aboriginal items he depicted in his books, such as clothes, buttons, tools and accessories, all bore strong resemblances to the real ones."
Chen said he first became interested in anthropology while working in 1948 as editor-in-chief for the Taiwan Public Opinion Journal (台灣公論報), one of the nation's first privately owned newspapers.
"I developed a strong interest in the field of anthropology when I was working on a new feature section for the newspaper called `Taiwan's Cultural and Social Customs' (台灣風土)," he said.
"Working on that section led me to travel to places in Taiwan and meet many interesting people. It was then that I started to build on a strong curiosity and interest in people and places."
Tsao Yung-ho (曹永和) was an avid reader of the features section Chen created.
"It was partially through my exposure to Taiwan's Cultural and Social Customs that I became interested in pursuing studies in Taiwanese historiography," said Tsao, a member of Academia Sinica and a longtime friend of Chen's.
Despite his age, Chen seems to have lost none of his appetite for his life's work.
"Even though Chen is now retired," Tchen Yu-chiou said, "whenever the Council for Cultural Affairs has meetings, Chen still offers his advice and suggestions."
Comments will be moderated. Keep comments relevant to the article. Remarks containing abusive and obscene language, personal attacks of any kind or promotion will be removed and the user banned. Final decision will be at the discretion of the Taipei Times.