Earth Day: In loving the Earth, talk is often cheap
NEW CONCEPTS The DPP may be a reformist party, but NGO heads say it has dragged its feet in government on environmental protection, for the betterment of only a few
For Taiwanese people, Earth Day is not a time to celebrate but to mobilize and take action because the government's package of measures for sustainable development might just turn out to be a fraud. \nAt today's 2004 National Conference for Non-Governmental Organizations (NGO) in Taipei, President Chen Shui-bian (陳水扁) is scheduled to give the opening speech. Last week, Chen vowed to do his best to turn the nation into a leading gathering place for international NGOs and a place that could inculcate familiarity with international affairs in its NGO professionals. \nChen's talk today, however, will be followed by a keynote speech entitled "Seeing through the fraud of sustainable development" and delivered by Chen Yueh-fong (陳玉峰), a 52-year-old ecologist who won last year's Presidential Cultural Award. \n"In Taiwan, when the government mentions sustainable development it seems to deceive people, because it remains trapped in myths about salvaging Taiwan's economy," Chen Yueh-fong told the Taipei Times. \nChen Yueh-fong, who is also president of the Taiwan Academy of Ecology, said that the Democratic Progressive Party (DPP) government has paid lip service to sustainable development and follows old-fashioned thinking about unlimited economic growth in coming up with its new development projects. \n"Resuming construction of the Fourth Nuclear Power Plant, blazing ahead with unnecessary new roads, such as the Suao-Hualien freeway, and holding a host of superficial tourism promotions that lack serious reflection from the point of view of ecological preservation -- all this indicates that the government needs to be better educated," he said. \nCiting the Tung Blossom Festival as an example of this, Chen Yueh-fong said it was absurd that a tree that caused an ecological disaster decades ago could then symbolize a festival promoting tourism. \nThe tung tree was planted in large numbers during the Japanese occupation because of its valuable timber and the water-resistant oil extracted from its seeds. But the tree also jeopardized endemic species, leaving irreparable ecological damage. \n"Without paying attention to the delivery of accurate information and a well-researched history to the public, the government can only fail in providing environmental education," Chen Yueh-fong said. \nBased on his observation of the environmental movement over the last four years, Chen said that a deteriorating environment was to be expected if no new concepts of ecological preservation were to be adopted by the DPP government. \nHe said he looked forward to seeing educational practices that empower not only individuals but also civic groups in implementing responsible ideas within Taiwan's democratic development. \nHe said that it was time, therefore, for NGOs to take the lead in responding to global trends of sustainable development. \nBuilding links \nSome local NGOs have already built links with influential international groups. The World Bird Federation Taiwan (WBFT) has been affiliated with BirdLife International for more than a decade and successfully helped the government on certain issues which ordinarily might suffer from its diplomatic isolation. \nAccording to WBFT secretary-general Chiang Kuen-dar (江昆達), the federation's participation in a wildlife protection scheme in Sumatra over the last two years has resulted in welcome attention from the UK. Consequently, on June 17, Taiwan's representative to the UK, Tien Hung-mau (田弘茂), will attend a party held by Prince Charles. \n"Breaking through existing diplomatic strictures using NGO channels is a bounty in addition to the issues we activists work on," Chiang said. \nChiang said domestic NGOs would do well to take advantage of influential groups at the international level to train talent and broaden their views. \n"If only we took a more aggressive approach to participating in international issues, our efforts would gain more recognition in the international community," Chiang said. \nLin Tze-luen (林子倫), co-founder of the US-based Taiwan Environmental Action Network, shares Chiang's opinion. The network, which is mainly composed of Taiwanese students studying in the US, strives to increase Taiwan's involvement in international activities relating to environmental issues. \nLin told the Taipei Times that the government needed to learn how to take advantage of NGOs in order to get more international exposure. \n"Empowering Taiwan's NGOs has become a critical issue. The government should therefore draw up more comprehensive regulations supporting these groups," he said. \nLin added that competition between nations and regional conflicts obstructed the way forward to a sustainable future. Even with its diplomatic plight, Taiwan still had space to make a contribution as long as it could develop the means to keep itself abreast of global trends in environmental protection, he said. \nTaking the energy industry as an example, Lin said there was still insufficient incentives for the government to promote renewable energy, which has already become a focus of concern for many advanced countries. \n"And worse than this, local groups that can disseminate the most recent knowledge relating to [renewable] energy often lack sufficient financial support from the government," he said. \nLai Wei-chieh (賴偉傑), secretary-general of the Green Citizens' Action Alliance, said the government's energy policy remained at odds with the government's rhetoric -- turning Taiwan into a nuclear-free country. \n"Because of unreformed energy policy, Taiwan is sacrificing the environment for the sake of promoting industrial competitiveness. But only a few people in our society are informed about the problems of energy infrastructure," Lai said. \nLai said local anti-nuclear groups still have things to fight for, including combatting the nuclear industry and delivering up-to-date information on the perils of nuclear energy to the public. \nLai said that with the nuclear industry in some Western countries recovering somewhat in the wake of unsolved problems relating to climate change, the government and NGOs needed to review energy policy, which was based on depriving future generations of natural resources. \nLai also said it remained vital that NGOs take action locally in partnership with affected residents on certain issues, such as the establishment of "not-in-my-backyard" facilities such as waste incinerators, landfills and power plants. \nHe said environmental problems such as air pollution, river pollution and covert toxic-waste dumps still affected people's lives. \nWaste systems \nTaiwan was also lagging far behind many advanced countries in the construction of sewerage systems, a problem with serious ramifications for river-system pollution, he said. \nIt was particularly apparent in this country that agricultural run-off, coastal aquaculture, industrial effluent and domestic waste were responsible for the pollution of coastal areas, river systems and groundwater, Lai said. \nAs of June 30 last year, the sewerage system in Taipei City served 63.7 percent of residents, while Kaohsiung's system only served 27.8 percent of residents. \nThe average rate in other parts of the country, where agricultural and industrial development is focused, was a tiny 1.5 percent. \nIn addressing water pollution, which has been considered a significant threat to not only the public health but also the economy, the government plans to invest NT$10 billion by 2008 to increase the rate of sewerage system usage nationwide from 10.7 percent to 27.3 percent. It is estimated that by that time 37.1 percent of residents around the country will enjoy a more hygienic environment. \nBut Lai said there was already considerable impatience on this matter. \n"How long can we wait? Some NGOs and schoolteachers are now discussing the possibility of initiating a referendum on public sewerage system construction everywhere," he said.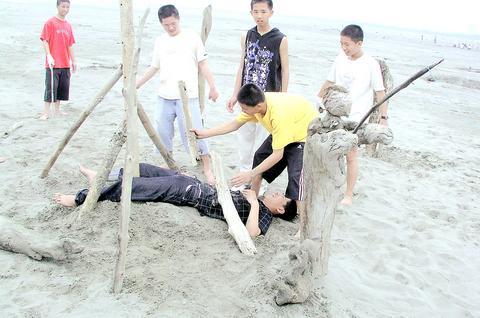 Residents of Changhua County's Hsienhsi township clean up a beach on Saturday to mark Earth Day, a global holiday celebrating the importance of biodiversity and environmental awareness.
PHOTO: TSAI WEN-CHENG, TAIPEI TIMES
Comments will be moderated. Keep comments relevant to the article. Remarks containing abusive and obscene language, personal attacks of any kind or promotion will be removed and the user banned. Final decision will be at the discretion of the Taipei Times.