Wozniacki tells of rheumatoid arthritis malady
World No. 3 Caroline Wozniacki on Thursday revealed that she has been diagnosed with rheumatoid arthritis, a revelation she found out before the US Open.
The Dane crashed out of the WTA Finals with a 5-7, 7-5, 6-3 loss to Elina Svitolina, ending her title defense. It completed a momentous season for Wozniacki, who captured her first Grand Slam at the Australian Open in January.
Wozniacki said she initially felt unwell after Wimbledon before waking up during the Rogers Cup in August unable to lift her arms. She was diagnosed with rheumatoid arthritis, a disease that attacks the joints, before the US Open.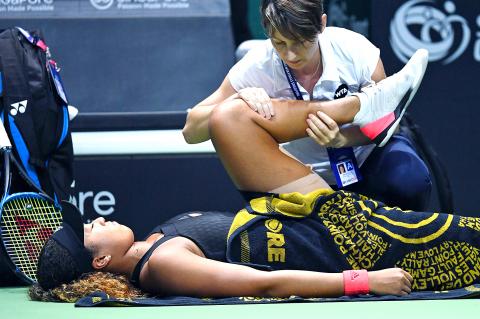 Naomi Osaka has her leg checked during her match against Kiki Bertens at the WTA Finals in Singapore yesterday.
Photo: AFP
"It's been a lot to just take in. After the US Open, I just kind of had to figure out what really was going on," she told reporters. "So that's when I really figured it out. I went to see one of the best doctors there is and start treatment."
The 28-year-old said she would look at ways during the off-season to control the autoimmune disease.
"You find a plan, figure out what to do, you do your research, and thankfully there is great things now that you can do to it," she said.
"The medication has really improved, so that's amazing," she said. "You have to think about diet, sleep, everything else. You know, it's a lifetime thing. It's not something that just goes away."
Her victory at the China Open earlier this month was particularly emotional.
"I think that meant so much to me," she said. "It also gave me the belief that nothing is going to set me back."
Meanwhile, Kiki Bertens yesterday continued her dream debut at the WTA Finals when the versatile Dutchwoman reached the last four after Naomi Osaka retired from their final round-robin match with a left hamstring injury at the end of the first set.
US Open champion Osaka took to the court with tape on the back of her leg for a problem that flared up in her defeat to Angelique Kerber on Wednesday and was competitive for half a set before opting to withdraw after Bertens took the opener 6-3.
"It's never nice to win a match like this and I hope she's feeling better soon," Bertens said.
The Dutchwoman is to be joined in the semi-finals by either Germany's Kerber or American Sloane Stephens, who were to complete Red Group play later yesterday.
Perhaps mindful of the injury, Osaka went for her shots from the outset, a tactic that comes with the risk of giving away free points, while Bertens was content to keep the ball in play and pin the powerful Japanese player to the back of the court.
Comments will be moderated. Keep comments relevant to the article. Remarks containing abusive and obscene language, personal attacks of any kind or promotion will be removed and the user banned. Final decision will be at the discretion of the Taipei Times.