'Box-office' Mourinho takes center stage again
Deflated after seeing his team concede a last-minute goal against his former club, Jose Mourinho looked up from his seat in the technical area on Saturday to see a rival coach taunting him just a few meters away.
So began a chain of events that offered another illustration of why the Manchester United manager remains the biggest box-office draw in English soccer.
In a tempestuous ending to United's 2-2 draw at Chelsea, Mourinho leaped up and attempted to confront Chelsea technical assistant Marco Ianni before being held back by security staff and members of his own coaching team.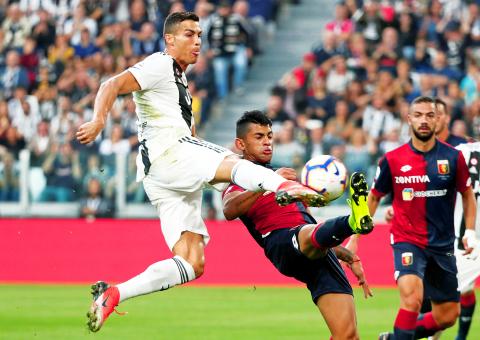 Juventus' Cristiano Ronaldo vies against Genoa's Cristian Romero in their Serie A match in Allianz Stadium in Turin, Italy, on Saturday.
Photo: Reuters
Chelsea fans reacted by aiming vitriol and abuse from the stands at Mourinho, the man who oversaw the most successful period in the London club's history.
Then, came those must-watch, post-match Mourinho interviews when he played the victim, said Chelsea apologized to him and then belittled Ianni.
"Don't do what everyone does and say, 'It's Mourinho who does things,'" he said. "I don't know his name. I don't need to know. Everything is fine."
United's latest impressive rally might be overlooked amid the late-match shenanigans involving its manager, who was seconds away from the sweetest of victories.
Ross Barkley's goal in the sixth minute of injury time ensured United remained in the middle of the table and preserved Chelsea's unbeaten start after nine games.
LA LIGA
AFP, BARCELONA and MADRID, Spain
Lionel Messi is expected to be out for three weeks after fracturing his right arm during Barcelona's win over Sevilla on Saturday.
The Barcelona club said in a statement: "Tests carried out on Leo Messi have confirmed that he has a fracture of the radial bone in his right arm. He will be out for approximately three weeks."
"It is clear it is a blow," Barca coach Ernesto Valverde said. "We know what he gives us and we know what he does to the opposition."
Messi scored before going off in the 26th minute of Barca's 4-2 win over Sevilla at Camp Nou, which sent them back to the top of La Liga.
He fell to the ground following a tussle with Sevilla's Franco Vazquez and, as his right hand tried to cushion the landing, his elbow appeared to buckle.
REAL MADRID
Real Madrid failed to ease the pressure on coach Julen Lopetegui and instead set the record for the longest goal-drought in the club's history during a surprise 2-1 defeat by Levante on Saturday.
Madrid have now gone five games without a victory and when Marcelo gave them hope of a comeback at the Santiago Bernabeu, they had gone 481 minutes of normal time without a goal, too. The club's previous worst run had been 464 minutes, in 1985.
For a team that prides itself on flair and flamboyance, it is a streak that reflects just as badly on Lopetegui.
Asked about his future, Lopetegui said: "It is the last thing I am thinking about. I am thinking only about lifting the players."
"We are with the coach until the death," Marcelo said.
Raphael Varane handed Levante a two-goal lead after just 13 minutes. Jose Luis Morales and Roger Marti, from the penalty spot, were the beneficiaries.
At the final whistle, Lopetegui stood on the touchline, with his hands on his hips, staring ahead in disbelief.
SERIE A
AFP, ROME
Cristiano Ronaldo scored on Saturday, but wasteful Juventus had to settle for a 1-1 stalemate at home to Genoa to end the Italian champions' perfect start to the season.
With eight Serie A wins and two in the Champions League, Juve were all set to extend that fine run when Ronaldo put Massimiliano Allegri's men into a first-half lead.
However, Juve were made to pay for failing to convert a hatful of chances when Daniel Bessa headed in a second-half equalizer.
Ronaldo, despite the turmoil of explosive rape allegations that surfaced before the international break, notched up in the 18th minute his fifth goal for his new employers since his headline move from Real Madrid, ironically helped by a mistake from Genoa's top-scoring Polish striker Krzysztof Piatek.
A communications mix-up saw Piatek leave Joao Cancelo's blocked shot for his goalkeeper, but the loose ball fell at Ronaldo's feet and he tapped it in to an empty net.
This was the 33-year-old's 400th career goal in Europe's top five leagues, making him the first player to reach that tally.
Comments will be moderated. Keep comments relevant to the article. Remarks containing abusive and obscene language, personal attacks of any kind or promotion will be removed and the user banned. Final decision will be at the discretion of the Taipei Times.