Kris Letang lifts Penguins past Capitals in overtime
The Pittsburgh Penguins gained a measure of revenge against rivals who ended their season last spring.
Kris Letang on Thursday scored his second goal 1 minutes, 20 seconds into overtime as the Penguins opened the season with a 7-6 victory over Stanley Cup champions the Washington Capitals.
"I think we wanted to respond to last season," Letang said. "I don't think it mattered if it was [Washington] or another team."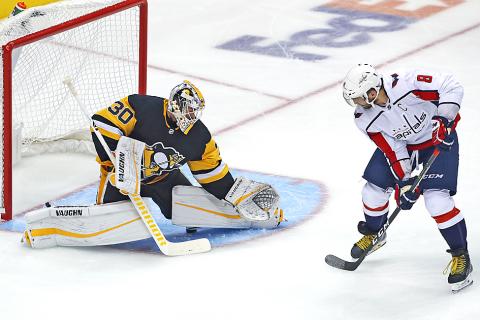 Alex Ovechkin of the Washington Capitals, right, scores past Pittsburgh Penguins goalie Matt Murray in their NHL game in Pittsburgh, Pennsylvania, on Thursday.
Photo: AP
Letang beat goalie Braden Holtby with a slap-shot from the point on a power play.
Letang finished with three points, tying Hall of Famer Paul Coffey for the most by a defenseman in team history with 440.
"I always looked up to him," Letang said. "It's pretty cool to have your name next to his."
Penguins coach Mike Sullivan believes the three-point opener will give Letang confidence.
"I thought he had a really solid night," Sullivan said. "He plays big minutes and in all of the situations for us. I'm happy for him because I know how hard he works."
Jake Guentzel also scored twice, Evgeni Malkin had a goal and two assists, and Derick Brassard and Jamie Oleksiak also added goals in Pittsburgh's opener.
Matt Murray made 30 saves.
T.J. Oshie scored twice for Washington, who were coming off a 7-0 home victory over Boston on Wednesday in the Capitals' opener.
Alex Ovechkin had his second of the season and 609th overall, passing Dino Ciccarelli for 18th on the NHL list.
Brooks Orpik scored his first goal in 182 regular-season games. Jakub Vrana and John Carlson also scored.
Holtby made 34 saves.
The Capitals met the Penguins for the first time since eliminating Pittsburgh in six games during the second round of the Stanley Cup playoffs.
The winner of Pittsburgh and Washington's second-round series the past three playoffs has gone on to win the Stanley Cup, including the Capitals' first-ever championship last season.
During the previous three seasons, the Penguins and Capitals met 32 times in the regular season and playoffs with 16 of those 32 games decided by one goal.
The Capitals return 20 of 22 players who won the Stanley Cup, while Pittsburgh are seeking their third championship in four seasons with a lineup largely unchanged from last season.
"Both of these teams have so much firepower throughout the whole lineup," Oshie said. "When you get a sloppy game, guys making misreads defensively, turning the puck over at the wrong time, each team is going to make you pay."
Malkin scored 2:45 into the third period, putting Pittsburgh ahead by two, but Oshie tied it at 6-6 with goals 21 seconds apart.
"It was not a pretty game," Letang said. "It was ugly. It was that type of game."
Comments will be moderated. Keep comments relevant to the article. Remarks containing abusive and obscene language, personal attacks of any kind or promotion will be removed and the user banned. Final decision will be at the discretion of the Taipei Times.