Ryu stars as Dodgers rout Braves
THE MOOSE NAILS IT: Mike Moustakas belted a walk-off single in the 10th inning to lift the Brewers to a 3-2 victory over the Rockies in the other series
South Korean pitcher Ryu Hyun-jin on Thursday pitched seven stellar innings as the Los Angeles Dodgers blasted three home runs to rout the Atlanta Braves 6-0 in the opening game of their National League playoff series.
Ryu, who was making his first playoff start in four years, struck out eight batters and allowed no walks for the Dodgers, who took a 1-0 series lead into yesterday's Game 2 at Dodger Stadium.
Ace pitcher Clayton Kershaw was expected to start Game 2 of the best-of-five series against the Braves' Anibal Sanchez.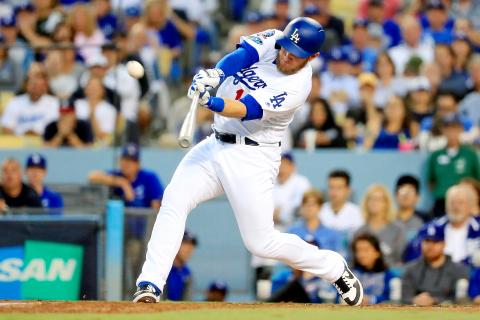 Max Muncy of the Los Angeles Dodgers hits a three-run homer against the Atlanta Braves in Game 1 of their National League Division Series in Los Angeles, California, on Thursday.
Photo: AFP
The 31-year-old Ryu missed over three months of the season with a groin strain. He came back in mid-August to post a 1.88 ERA in 52-2/3 innings.
The Dodgers explosive batting order did not skip a beat from the regular season. They set franchise and National League records by hitting 235 homers during the regular season.
"I don't really feel like there's anyone on this team that's going up there trying to hit a home run," said Max Muncy, who had a three-run homer in the second inning. "It's just a result of us having a good approach and good at-bats. I feel like a lot of the home runs we've had have come off of long at-bats, working the counts and wearing the pitcher down."
Atlanta have lost eight straight series openers in the playoffs and have not won a Game 1 since 2001.
Elsewhere, Mike Moustakas belted a walk-off single in the 10th inning to lift the Milwaukee Brewers to a 3-2 victory over the Colorado Rockies in the first game of their series.
Before ecstatic home fans, the Brewers thwarted a rally bid from the Rockies, who erased a two-run deficit in the top of the ninth inning.
Christian Yelich led off the bottom of the 10th with a walk, reached second on a wild pitch and advanced to third on a fielders' choice.
With two outs, Moustakas came to the plate and lined a base hit to right field to score Yelich and give the Brewers a 1-0 lead in the best-of-five series.
They were due to host Game 2 yesterday.
"Look, Moose has been in those spots," Brewers manager Craig Counsell said. "It's something that you try to not make the situation too big, and he did a great job of it and finally got a pitch to it."
Yelich had put the Brewers up with a two-run homer in the third.
"You're just trying to slow the situation down, find a way to get on and make something happen, and Moose was able to come through there at the end with the huge hit," Yelich said.
Milwaukee's pitchers took a one-hit shutout into the ninth inning, but then things got away from closing pitcher Jeremy Jeffress.
Colorado pinch hitter Gerardo Parra led off with a single and Matt Holliday added a single up the middle. A single from Charlie Blackmon allowed Parra to score.
With runners on first and second, D.J. LeMahieu hit a grounder that eluded shortstop Orlando Arcia and Nolan Arenado produced a sacrifice fly that knotted the score at 2-2.
Comments will be moderated. Keep comments relevant to the article. Remarks containing abusive and obscene language, personal attacks of any kind or promotion will be removed and the user banned. Final decision will be at the discretion of the Taipei Times.