Asian Games: Taiwan add two gold medals to haul
TEAMWORK: While the women's kabaddi team lost to India in the semi-finals, they will celebrate the nation's first podium finish in the sport at the Asian Games
Taiwan yesterday snagged two gold medals in artistic gymnastics and women's weightlifting at the Asian Games in Indonesia.
In artistic gymnastics, Lee Chih-kai clinched a gold medal in the men's pommel horse final with a score of 15.400, while Tang Chia-hung won silver in the men's floor exercise with 14.425 points.
Chen Chih-yu later scored 14.600 in the men's rings final to secure the bronze medal, while China's Deng Shudi took gold with 14.750 and Japan's Shogo Nonomura took silver with 14.625.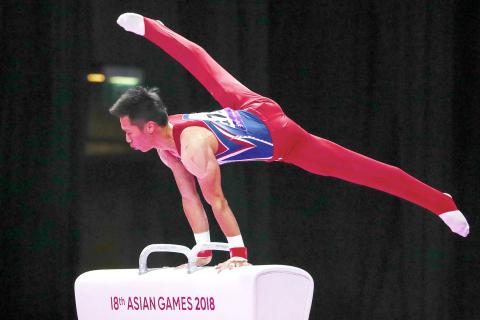 Taiwan's Lee Chih-kai performs on the pommel horse in the Asian Games men's individual artistic gymnastics finals in Jakarta yesterday.
Photo: EPA-EFE
Taiwan's second gold medal of the day was won by Kuo Hsing-chun in the women's 58kg weightlifting event.
"I was really nervous before the competition; it was the first time that I did not sleep well," Kuo said. "I needed the support of my teammates and coach to encourage me to just be myself and not think too much."
"It has been tough over the past few years. I have had lots of pressure on me, because I won gold in weightlifting at the Taipei Universiade, so everybody expected me to win it here," she said.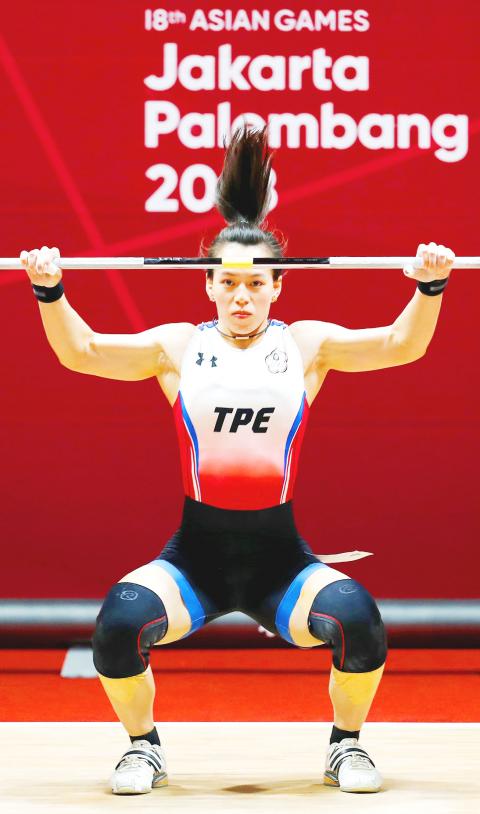 Taiwan's Kuo Hsing-chun competes in the Asian Games women's 58kg weightlifting final in Jakarta yesterday.
Photo: Reuters
She completed a 105kg lift and a 130kg clean and jerk for a total of 235kg, topping Thailand's Sukanya Srisurat with 226kg and Japan's Mikiko Andoh at 218kg.
In women's single sculls, Huang Yi-ting clinched silver with a time of 8:16.14.
China's Chen Yunxia won gold with 8:8.21, while Kazakhstan's Aleksandra Opachanova took silver with 8:19.32.
Meanwhile, Chen Wei-han won silver in women's single canoe with a time of 1:51.14.
China's Chen Shi took gold and Thailand's Atcharaporn Duanglawa bronze with times of 1:50.32 and 1:56.34 respectively.
In kabaddi, Taiwan lost to India 27-14 in the women's team semi-finals, finishing with bronze.
However, the team will still celebrate, as it was the nation's first podium finish in the sport at the Asian Games.
"It was an unbelievable effort by our team to reach this stage, because kabaddi is not a familiar sport in Taiwan," coach Tsai Wei-yang said. "Our performance today showed other nations our strength in this sport."
"We can only get better with more international tournaments and if more kids take up kabaddi," Tsai added.
In softball, the women's team defeated the Philippines 6-3 to advance to the final against Japan.
In tennis, Taiwanese sisters Latisha Chan and Chan Hao-ching advanced to the women's doubles semi-finals after defeating Japan's Moyuka Uchijima and Erina Hayashi 4-6, 7-5, 10-5.
The Chan sisters are to face Kazakhstan's Gozal Ainitdinova and Anna Danilina in the semi-finals today.
In the women's singles, Liang En-shuo picked up a bronze after falling to China's Wang Qiang 6-1, 6-3.
In the men's singles, Taiwan's highly rated Jason Jung was stopped in the quarter-finals by South Korea's Lee Duck-hee, who triumphed 6-3, 7-5.
As of press time last night, Taiwan had secured five gold medals, six silver and 11 bronze since the Games began in Jakarta on Saturday last week.
Additional reporting by staff writer
Comments will be moderated. Keep comments relevant to the article. Remarks containing abusive and obscene language, personal attacks of any kind or promotion will be removed and the user banned. Final decision will be at the discretion of the Taipei Times.