Anderson stuns Federer in Wimbledon quarter-final
Roger Federer was on Wednesday one point away from a rather tidy, straight-sets victory in the Wimbledon quarter-finals. One lousy point.
And then, slowly, over the next two-plus hours, all the way until the fifth set reached its 24th game, as the temperature dropped and the spectators' cries of "Let's go, Roger," echoed through the shadows, everything came apart for the eight-time champion against an opponent who had never beaten him nor made it this far at the All England Lawn Tennis and Croquet Club.
In a stunning turnaround in an unfamiliar setting — No. 1 Court instead of Centre Court — top-seeded Federer blew a third-set match point and, eventually, all of his big lead in a 2-6, 6-7 (5/7), 7-5, 6-4, 13-11 loss to No. 8 Kevin Anderson in a tussle that lasted 4 hours, 14 minutes.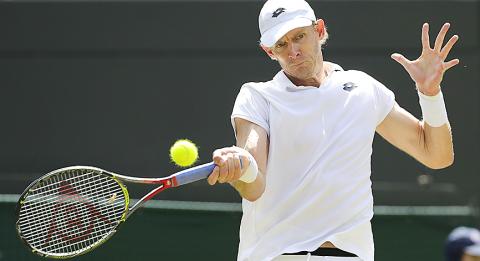 South Africa's Kevin Anderson returns to Switzerland's Roger Federer in their Wimbledon men's quarter-final in London on Wednesday.
Photo: AP
"It was just one of those days where you hope to get by somehow," said Federer, who last played on No. 1 Court in 2015. "I almost could have. I should have."
While his tournament is over, two of his long-time rivals at the top of tennis set up a semi-final showdown: Rafael Nadal and Novak Djokovic.
Nadal, who has won two of his 17 Grand Slam titles at Wimbledon, edged 2009 US Open champion Juan Martin del Potro 7-5, 6-7 (7/9), 4-6, 6-4, 6-4 in a wildly entertaining match that featured diving shots by both and lasted 4 hours, 48 minutes.
Djokovic, whose 12 major championships include three at the All England Club, got to his first Grand Slam semi-final since 2016 by beating No. 24 seed Kei Nishikori 6-3, 3-6, 6-2, 6-2.
In today's other men's match, Anderson is to face No. 9 John Isner, the 33-year-old American who reached his first major semi-final in his 41st try by eliminating 2016 runner-up Milos Raonic 6-7 (5/7), 7-6 (9/7), 6-4, 6-3.
Isner hit 25 aces, saved the only break point he faced and has won all 95 of his service games in the tournament.
Federer had not been broken until facing Anderson. Still, the 20-time major champion was leading by two sets and 5-4 in the third when, with Anderson serving, he got to Ad-Out.
He could have ended things right then and there. Federer managed to return a 216kph serve, but on his next stroke, he shanked a backhand.
Back to deuce. From there, it all began to change.
Anderson held for 5-5, broke to 6-5 with a violent return winner off a 156kph second serve, then staved off three break points and closed the set with a 214kph ace.
The comeback was only just beginning.
"I had my chances, so it's disappointing," Federer said.
It was only the third time in Federer's 20 years of Grand Slam matches that he lost after taking the opening two sets; both of the other defeats came in 2011.
According to the ATP, it was the fifth time Federer lost a match at a major after holding a match point, something else that last happened seven years ago.
How hard was it to see this coming?
First, Federer was 4-0 against Anderson, winning every set. However, there was more, so much more.
Federer was attempting to reach his 13th semi-final at Wimbledon and move closer to title No. 9, both of which would have broken his own records.
He entered the match having won 32 consecutive sets at Wimbledon, a run he stretched to 34 before faltering.
"I just kept on telling myself: 'I have to keep believing.' I kept saying that today was going to be my day, because you really need that mindset taking the court against somebody like Roger," Anderson said.
Anderson was the runner-up to Nadal at last year's US Open, but he had never made it beyond the fourth round at Wimbledon until this week.
He hit 28 aces against Federer, saved nine of 12 break points and managed to hold his own in the rare lengthy baseline rallies.
"It's like that with the big servers," Federer said. "You're never really safe."
As the fifth set became as much a test of mental strength as anything, from 4-4 to 6-6 to 8-8 to 10-10, Anderson stayed steady. It was Federer who blinked, double-faulting to face a break point at 11-11, then slapping a forehand into the net.
Anderson, a 32-year-old South African who played college tennis in Illinois, served it out, ending things with a 206kph service winner before raising both arms.
In the third round of the mixed doubles, fifth seeds Chan Hao-ching of Taiwan and Nikola Mektic of Croatia fell to a 4-6, 7-6 (7/2), 6-4 defeat to ninth seeds Katarina Srebotnik of Slovenia and Michael Venus of New Zealand in 1 hour, 53 minutes.
Additional reporting by staff writer
Comments will be moderated. Keep comments relevant to the article. Remarks containing abusive and obscene language, personal attacks of any kind or promotion will be removed and the user banned. Final decision will be at the discretion of the Taipei Times.