Taiwan player and side edged out in Russia
Taiwan's Danny Carroll on Tuesday failed to advance from the group stage of the Football for Friendship World Championship in Moscow, as his side African Wild Dog fell to two narrow defeats before winning their final group match at the Sapsan Arena.
To promote ecological conservation, each of the 32 teams represented a rare and endangered species of animal and Carroll was joined in the Africa Wild Dog team at the five-a-side tournament by goalkeeper Andrey Ponomarenko of Russia, Luca Durso of Australia, Sam Clarke of Grenada, Wadia Chery of Haiti and Alvaro Nogues Couchonnal of Paraguay.
In the first group match against Whale Shark, a visibly frustrated Carroll saw his effort hit the crossbar and bounce to safety in the first minute.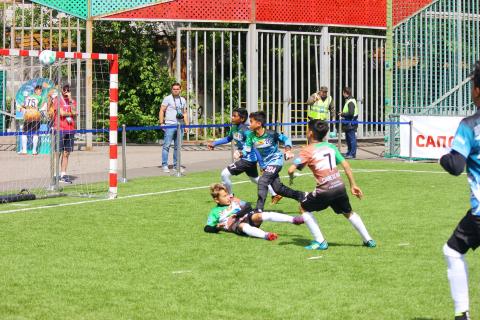 The African Wild Dog's Danny Carroll, No. 7, watches after taking a shot in the team's first group match in the Football for Friendship World Championship at Sapsan Arena in Moscow on Tuesday.
Photo: Dave Carrol, Taipei Times
Africa Wild Dog took the lead, but Whale Shark equalized before halftime before going on to score a winner with the final kick of the game for a 2-1 victory.
The second game was also close, as Africa Wild Dog this time took a 2-0 lead against eventual losing semi-finalists Blonde Capuchin, who featured South Korea's Kim Chan-woo and North Korea's Gwon Tae, who have struck up a good partnership, helping their team pull back to 2-2.
The game looked to be heading for a draw until the referee blew for a foul and allowed the free-kick to be taken while Ponomarneko was retrieving a ball from behind the goal, and Blonde Capuchin fired into an empty net past a helpless Carroll.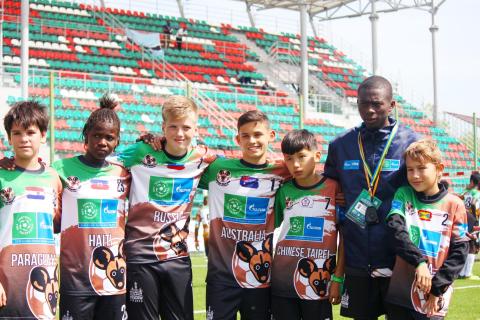 African Wild Dog players pose for a team photograph at Sapsan Arena in Moscow on Tuesday.
Photo: Dave Carrol, Taipei Times
Despite captain Durso's protests, the goal was controversially allowed to stand and Africa Wild Dog fell to a tough-to-take 3-2 loss.
With nothing but pride to play for in their final game, Africa Wild Dog still gave it their all and in the second half Durso weaved through the Dama Gazelle defense to convert and give the team a well-deserved consolation victory.
Chimpanzee, featuring players from Dominica, Saint Kitts and Nevis, Malawi, Colombia, Benin and the Democratic of the Congo, went on to the final and claimed the World Championship title.
The international children's social program, implemented by PJSC Gazprom since 2013, promotes friendship, equality, fairness, health, peace, devotion, victory, traditions and honor.
This year the event was aligned with the FIFA World Cup in Russia, and for the first time all 211 FIFA members were invited to send both an ambassador (player) and a young journalist.
As well as Carroll, Taiwan is being represented by 12-year-old young journalist Sherri Chang (張馨予).
The ambassadors and young journalists are today to attend the opening ceremony and match of the World Cup in Moscow.
Comments will be moderated. Keep comments relevant to the article. Remarks containing abusive and obscene language, personal attacks of any kind or promotion will be removed and the user banned. Final decision will be at the discretion of the Taipei Times.