Ex-cheerleaders demand raise, end to exploitation
A group of former Houston Texans cheerleaders who are suing the NFL delivered a letter to its commissioner on Monday demanding that the league end its exploitation of women and pay fairer wages.
Their lawyer, Gloria Allred, who filed a case against the Texans on Friday last week, told the media it was time for cheerleaders to get the respect they deserve and for their salaries to be increased beyond minimum wage.
"Women deserve respect and should be paid for the worth they provide," she said, reading from the letter. "The days when women would accept any crumbs that men would give them are gone — enough is enough."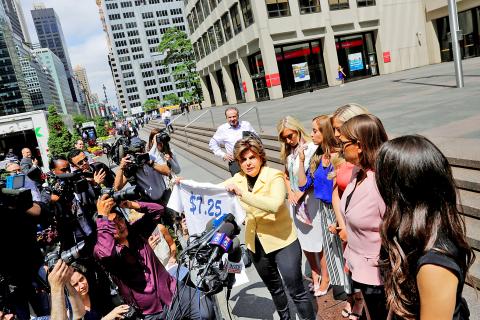 Lawyer Gloria Allred holds a shirt with the minimum wage printed on it outside of NFL headquarters in New York City on Monday.
Photo: Reuters
Surrounded by four of the five women she is representing, Allred, who represented the victims of Bill Cosby, said she had given the NFL a week to respond.
In their lawsuit, the women say they were paid just US$7.25 an hour and were subjected to harassment.
It was the latest legal action following similar suits by cheerleaders from the New Orleans Saints and the Miami Dolphins.
The issue came to the fore last month after the New York Times reported that members of the Washington Redskins cheerleading squad who went on a week-long trip to Costa Rica were pressured into taking topless photographs for a calendar — even though the calendar did not feature nude photographs.
Long a staple of US professional sports, some critics have questioned whether the presence of scantily clad women on the sidelines of games is an anachronism in the #MeToo era.
Allred did not go that far, but suggested that mixed gender cheerleading squads would go a long way toward improving work conditions.
"Usually, when men are in a profession, it brings things up," she said.
Comments will be moderated. Keep comments relevant to the article. Remarks containing abusive and obscene language, personal attacks of any kind or promotion will be removed and the user banned. Final decision will be at the discretion of the Taipei Times.