Immigrants kept informed about Super Bowl security
SECURED: Some immigrants are reminded of military take-overs when they see armed officers, but social services aim to help allay people's fears over security measures
Military Humvees, officers in combat gear and the occasional F-16 flying over downtown Minneapolis, Minnesota, are all part of the beefed-up security measures that come with hosting Super Bowl LII, but those images can be scary for some immigrants and refugees who are worried about terrorism, deportation or even a war they cannot forget.
A special team with the city of Minneapolis has been working for weeks to reassure immigrant communities that all the extra muscle is here to keep them safe. The team is reaching out through radio and television broadcasts, social media and in-person meetings with elders and community members. The goal is to keep communities informed about everything from security to transportation issues and let them know they can also participate in the fun.
"It's a welcoming place... for people to come downtown and enjoy," said Michael Yang, a southeast Asian community specialist with the city. "You shouldn't have to fear anything."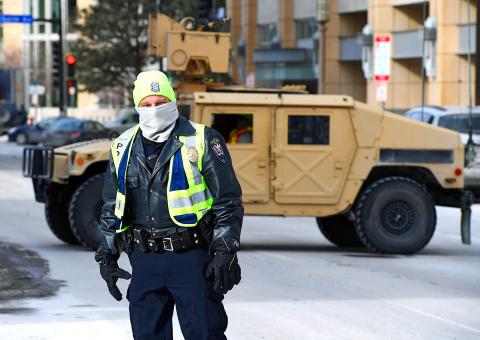 A police officer stands in front of a military Humvee on Friday outside the Super Bowl LIVE 10-day fan festival in Minneapolis, Minnesota.
Photo: AFP
Minnesota has been a welcoming state for immigrants in the past several decades, thanks in part to its social service programs. The state is home to the largest Somali community in the US, about 57,000 people according to the latest census figures, most of whom live in the Minneapolis area.
The state also has the second-highest Hmong population, behind California.
The team of community specialists in Minneapolis does outreach in immigrant communities all year, but is working with more partners and intensifying efforts in the lead-up to the Super Bowl.
Officials believe they have created a model for future Super Bowls or other large events. Among other things, the team is broadcasting weekly radio programs in Spanish, Somali and Hmong and is contracting with others to share social media messages in Spanish, Hmong, Somali, Vietnamese, Oromo and Lao.
The messages are being tailored to each community because while one community might believe armed guards are preventing a terror attack, another might see those same officers as an immigration raid.
"Every community has their own take on the event and their own fears and concerns and we address them by giving them the right information, telling them what's going on," said Rose Lindsay of the community relations unit in the Joint Information Center set up for the Super Bowl.
Yang said that even though Hmong immigrants have been in Minnesota for decades, images of the war they left behind are still fresh.
Some people he has met tell him that the armed officers remind them of the military taking over the streets of Laos. Others expressed concern about helicopters or other aircraft flying overhead, saying it reminds them of enemy aircraft.
"With some members of the Hmong community, people are really fearful that there is war," he said.
Hmong have also expressed fear of a terrorist attack or hate crimes, and weeks ago elders were asking families to stay away from the Super Bowl activities.
Yang said his work has helped ease fears.
Other team members agree.
East African community specialist Abdirashid Ahmed is working to explain the Super Bowl to community leaders, faith leaders and other community members. In addition to face-to-face meetings, he is also monitoring social media to see what the community is talking about.
After a car caught fire in a Somali neighborhood this week, many community members went to social media and asked if there was a terror attack.
Ahmed said because of the infrastructure that has been set up, officials were able to respond within minutes to let the community know it was a mechanical fire and they had nothing to worry about.
When asked if there is fear of racial profiling in a community where some members have been the subject of terror investigations, Ahmed said there is always that concern because of the current climate.
However, as far as it relates to the Super Bowl, "people are not asking the same kinds of questions they were asking me a month or two months ago."
"We have been explaining everything," Ahmed said. "The law enforcement agencies coming to Minneapolis... they will be here to protect everyone, not to harm."
Comments will be moderated. Keep comments relevant to the article. Remarks containing abusive and obscene language, personal attacks of any kind or promotion will be removed and the user banned. Final decision will be at the discretion of the Taipei Times.