Buffalo Bills end their 17-year playoff drought
Amid the dancing, screaming, hugs and high-fives in the Buffalo Bills' locker room, defensive tackle Kyle Williams watched his two young sons climbing around in his stall.
"What do you think, boys?" Williams shouted. "Where are we going? The playoffs. Yeah."
His sons are only six and four. For their dad and most Buffalo fans, Sunday was a long time coming.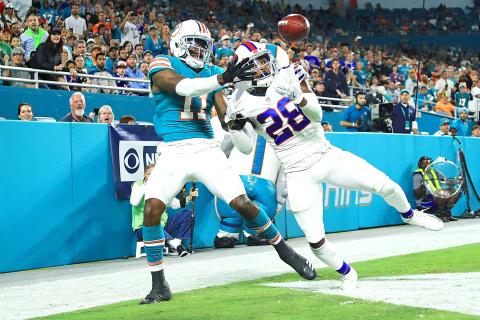 E.J. Gaines of the Buffalo Bills, right, deflects a pass against the Miami Dolphins in their NFL game in Miami Gardens, Florida, on Sunday.
Photo: AFP
The Bills snapped the longest playoff drought in North American professional sports, making the post-season for the first time since 1998-1999.
They avoided elimination by beating Miami 22-16 and clinched an American Football Conference wild-card berth minutes later when Cincinnati rallied past Baltimore.
The Bills watched the dramatic finish of the Bengals game on locker room TVs and then erupted.
"Everybody went crazy," said Williams, who is in his 12th and perhaps final season with the Bills. "I've been a wreck for 10 to 15 minutes."
Buffalo (9-7) travel to face Jacksonville and former Bills coach Doug Marrone on Sunday.
Marrone resigned as Bills coach three years ago on Sunday.
The Bills' joy was tempered by the loss of 1,000-yard rusher LeSean McCoy with an ankle injury. He was carted off the field in the third quarter, and was in a walking boot and tears after the game.
"Hopefully, it's not as bad as it seemed," quarterback Tyrod Taylor said.
The frustration of a disappointing season got the best of the Dolphins (6-10) with 6 minutes, 21 seconds left when receiver Jarvis Landry, running back Kenyan Drake and offensive lineman Jake Brendel were ejected following a fight.
Landry was cited for disrespecting an official and Drake for throwing his helmet 20 yards in anger.
Unsportsmanlike conduct penalties were handed to both teams.
The undisciplined Dolphins, who went into the game with the second-most penalties in the NFL, had 14 for 145 yards.
Meanwhile, for the Bills, 17 seasons of frustration ended.
"The locker room is electric, man," said guard Richie Incognito, who finished a season above .500 for the first time in his 11-year career. "We have been working so hard for this. So much has been said about it and now the monkey is off our back. We're in the post-season and we've got new life."
Buffalo punctuated the memorable victory with a one-yard touchdown run by Williams for the first score of his career.
"I thought: 'Try not to screw it up. They're not going to call it again if I screw it up,'" Williams said.
He and his teammates celebrated with choreographed back flops in the end zone.
"I was a little surprised at the touchdown celebration," Taylor said. "I was the only one who wasn't aware of falling down."
Golf great Jack Nicklaus wore Bills gear and a smile watching from the stands as his grandson, tight end Nick O'Leary, caught Taylor's 26-yard touchdown pass.
The Dolphins scored a touchdown with 1:56 left and recovered the ensuing onside kick, but Jordan Poyer's interception sealed the win.
Taylor went 19 of 27 for 204 yards and one score. In six games against Miami, he has 10 touchdown passes and no interceptions.
For the Dolphins, the season finale had the feel of an exhibition game, with thousands of empty seats and David Fales giving a lengthy, unimpressive audition as a potential backup quarterback.
Miami were eliminated a week ago and sit out the playoffs for the eighth time in the past nine years.
"I guess it's a little perplexing," Dolphins defensive end Cameron Wake said.
Comments will be moderated. Keep comments relevant to the article. Remarks containing abusive and obscene language, personal attacks of any kind or promotion will be removed and the user banned. Final decision will be at the discretion of the Taipei Times.