Cavaliers rout Pistons for fifth straight win
An emphatic win over first-placed opponents had LeBron James and the Cleveland Cavaliers talking confidently again.
"We haven't had a win like that in a very long time," James said. "That's what happens when we don't let up."
James on Monday scored 16 of his 18 points in the first quarter as the Cavaliers made 11 three-pointers in the first half on the way to a 116-88 rout of the Detroit Pistons.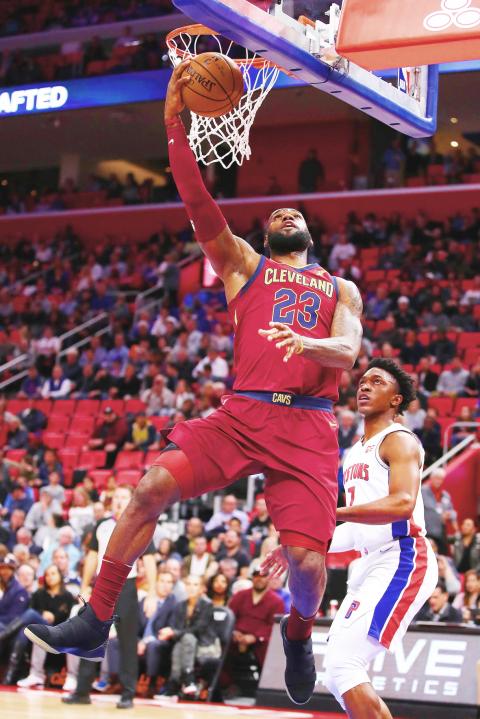 LeBron James of the Cleveland Cavaliers, left, goes to the basket against the Detroit Pistons in their NBA game in Detroit, Michigan, on Monday.
Photo: AFP
Cleveland led 73-46 at halftime thanks to an overwhelming shooting performance, an indication that Detroit's stay at the top the Central Division might not last much longer.
The Pistons still lead the Cavaliers by a game, but Cleveland have won five straight and scored at least 110 points in eight of their past nine.
"That was 48 minutes of game planning and execution right from the beginning," James said. "They've been playing extremely good basketball. They were coming off a great win [on Sunday] night in Minnesota, so we knew that they were going to come out here and try to give us their best shot, and had to be ready for that."
The Cavaliers led 27-22 when James went to the bench late in the first quarter. By the time he came back in, it was 50-30.
Cleveland's reserves ended up outscoring Detroit's 26-8 in the first half.
The Cavs shot 62 percent from the field in the first two quarters and 11 of 17 from three-point range. They finished the game 16 of 33 from beyond the arc.
"I'm not upset at our guys. I didn't see our guys quitting or anything like that," Pistons coach Stan van Gundy said. "We got a little bit shell shocked."
This had the feel of a big game before it started. Although there were still some empty seats at Little Caesars Arena, the Pistons' new home seemed closer to full than on previous nights and the attendance was announced as a sellout.
The Detroit Pistons played well on offense at the start. A three-pointer by Avery Bradley put Detroit ahead 18-17.
However, James answered with two three-pointers and a turnaround jumper, and the Pistons were not able to keep up with Cleveland's torrid shooting.
"He definitely did set the tone," Detroit's Tobias Harris said of James. "Made some really tough, contested shots — threes. Got himself going, got his team going and then they were able to just pretty much fuel off that."
Comments will be moderated. Keep comments relevant to the article. Remarks containing abusive and obscene language, personal attacks of any kind or promotion will be removed and the user banned. Final decision will be at the discretion of the Taipei Times.