Chen holds on to win Rostelecom Cup
Nathan Chen's technique trumped Yuzuru Hanyu's superiority in program components to win the first of six qualifying events in men's figure skating at the Rostelecom Cup on Saturday.
Evgenia Medvedeva stretched her streak of Grand Prix golds to five, outdistancing Olympic bronze medalist Carlina Kostner of Italy despite falling on a double axel late in her free program.
Chen, the US champion, reeled off four quads, including a spectacular opening quad Lutz-triple toe opening combination and a quad-double-double cascade in the second half of the free skate.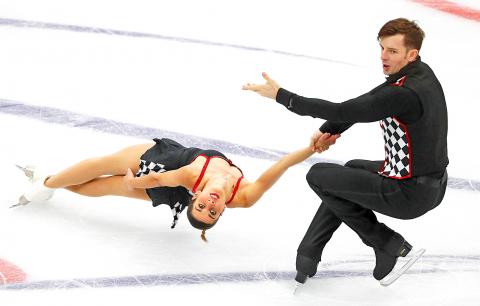 Valentina Marchei, left, and Ondrej Hotarek of Italy perform during the Pairs Free Skating competition of the Rostelecom Cup in Moscow on Saturday.
Photo: EPA
Hanyu did three quads, but won the free skate segment with a six-point advantage on components.
However, Chen was too far ahead after Friday's short program.
"The beginning half of my program I was really happy with," Chen said. "The quads I did relatively well ... then in the second half I got a bit tired."
Hanyu, the Olympic champion, said he needs to get more rotation on his jumps.
"I realize again how important it is to practice more, and in skating, each element is so important and I just need to perform each element cleanly," the Japanese skater said.
Mikhail Kolyada of Russia won bronze, followed by compatriot Dmitri Aliev, who fell three times.
Wakada Higuchi of Japan won the women's bronze.
Medvedeva's aesthetically adventurous free skate to the soundtrack of Anna Karenina, ending with the whistle of the train that killed the heroine, earned the Russian higher program component scores than Kostner's more-conventional floating to Debussy's Afternoon of a Faun.
Although Kostner landed all of her jumps cleanly, Medvedeva was a bit more ambitious athletically, opening with a triple-triple compared with the Italian's triple-double.
Since 2015, Medvedeva has medaled in every one of her Grand Prix appearances for six golds and one silver.
Of her fall on Saturday, she said: "I allowed myself to let my joy out a little too early."
Kostner skated with assurance despite being in the high-pressure last slot, coming directly after Medvedeva.
"I felt the warmth of the audience helped me through it and there are a lot of other things I can improve," she said. "To start the Grand Prix season with such a great performance is very special and I'm very excited."
Russians took all of the spots on the pairs podium, led by Evgenia Tarasova and Vladimir Morozov whose high-spirited free skate opened with a soaring triple twist and included two long-distance throw triples.
Their overall finish was about 20 points ahead of Olympic silver medalists Ksenia Stolbova and Fedor Klimov, who were plagued by two Stolbova falls.
Comments will be moderated. Keep comments relevant to the article. Remarks containing abusive and obscene language, personal attacks of any kind or promotion will be removed and the user banned. Final decision will be at the discretion of the Taipei Times.