Hatchet throwing becoming new pastime for US punters
What better, safer way to have fun than drink beer and throw a hatchet?
This is now a thing in the US, a new pastime, and it is spreading.
On a busy Friday night at Stumpy's Hatchet House in New Jersey, it sounds like this: the thud of the blade sticking into a wooden target, people cheering a good toss and a bell ringing out when somebody scores a bull's eye.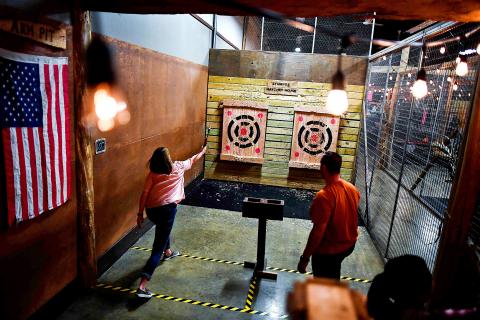 A woman throws a hatchet at a wooden target at Stumpy's House in Eatontown, New Jersey, on Friday last week.
Photo: AFP
Its four founders say the bar, which opened 18 months ago, is the first of its kind in the US, although Canada is generally considered the cradle of competitive hatchet-hurling.
Such spots are now found in Chicago, Washington, Nashville, Tennessee and Denver, Colorado, among other US cities.
Stumpy's owners are talking about opening another elsewhere in New Jersey and have even started offering franchise arrangements. They hope to have a network of 15 within a year.
"This is the next bowling," said Kelly Josberger, a former elementary-school principal aged 51, who decided to change careers.
Like her three partners, she had never before run a business.
"Even if you're bad, you still have fun. With bowling, if you're not good at it, it's not really as fun," said Joseph Cavanagh, 27, who came to Stumpy's with friends to celebrate his birthday.
Participants said it takes about half an hour of practice to master the trick of throwing the hatchet so it spins right and sticks in the target, which is replaced several times a day.
"I think it's good because it's different and you're active and it's more hip than bowling," said Jessica Hill, 34, a pharmacist and friend of Cavanagh.
And it is all kind of natural here. There are no TVs or neon lights. People feel sophisticated, in a rustic way.
On this particular night most of the crowd are young people, men and women in roughly equal numbers.
However, many say they have also seen people in their 60s come and give it a try, at the rate of US$40 dollars a person for two hours.
Tim Foley likes the sense of danger the game entails.
"It makes it more interesting," he said.
BEER AND BLADE
However, some consider hatchets and booze to be a risky combination.
Stumpy's does not have a license to sell alcohol, but it does allow people to bring their own beer or wine.
Alyssa Tabernise remembers when she first heard of the quirky pastime.
"It's not really safe that we're drinking and throwing, but it's probably a lot of fun," she said.
To maximize safety, the Stumpy's team makes a short training course mandatory.
And there are strict rules: No one under age 21; one thrower at a time and competitors cannot hand the hatchet to each other, but rather must leave it in a special holder after throwing.
At Valhalla, the first hatchet bar in France, which opened this month near Caen, people have to take a Breathalyzer test before being allowed to play.
At Stumpy's, staffers stroll around constantly to make sure people are following the rules. The 13.6cm steel hatchets weighs 567g.
When she sees skittish customers at the door, Josberger — who insists Stumpy's has never had an accident — asks this question: "Do I look like a dangerous person?"
Comments will be moderated. Keep comments relevant to the article. Remarks containing abusive and obscene language, personal attacks of any kind or promotion will be removed and the user banned. Final decision will be at the discretion of the Taipei Times.