White takes helm of Taiwan soccer
Taiwan soccer entered a new era this week when a trio of English soccer officials, headed by Gary White, officially took control of the men's national team to prepare players for a friendly against Mongolia, before hosting Bahrain for a Double Ten National Day match in Taipei as part of the Asian Football Confederation (AFC) Asian Cup qualifiers.
White has been appointed head coach, while Louis Lancaster is assistant coach and former Queens Park Rangers goalkeeping coach David Rouse is goalkeeping coach.
White has been dubbed the "manager for island nations" by local media, as he has held coaching roles in the British Virgin Islands, the Bahamas and Guam.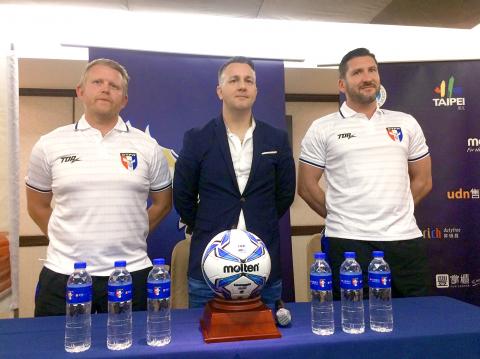 From left, Taiwan assistant coach Louis Lancaster, head coach Gary White and goalkeeping coach David Rouse pose at a media conference in Taipei on Friday.
Photo: Liao Yuwei, Liberty Times
Spectators can look forward to a revamped Taiwan team that plays an attacking game, White said at a media conference introducing the new coaches on Friday, adding that he wants to bring "sexy football" to Taiwan.
Sexy football is the way the team plays and players should be thinking and planning, and be willing to try new things on the pitch, and have a desire to win, White said.
The immediate goal is to qualify for the Asian Cup finals, White said.
"We are here with a plan. Together with my assistant Lancaster and goalkeeping coach Rouse, we will bring out the best in every player and the team," he said.
It is hoped the coaches can restore national soccer to its former glory and instill the right attitude and discipline in players.
Sports commentators have said that Taiwan soccer has been suffering for many decades as a result of political interference, alleged corruption and financial scandals, wrangling among factions, control over players, lack of planning to develop basic soccer facilities, a lack of corporate investment and a series of promised then abandoned government programs, which have led to the game's decline and waning public interest.
However, top sports officials and politicians are demanding a miracle of the English coaches.
Sports Administration Director-General Lin Te-fu, along with lawmakers and soccer officials, want the national team to rank within FIFA's top 100 in six years.
Taiwan fans have slammed the goal, posting online that it is "out of touch with reality," "ridiculous," and "these guys must be joking."
However, fans and players said they have high hopes for change and improvement under White, as it is the first time the national team has had a European coach.
Japan's Toshiaki Imai and Kazuo Kuroda and South Korea's Lee Tae-ho have been the only foreigner to coach the team in recent decades.
The only non-Asian head coach appointed by the Chinese Taipei Football Association was Brazil's Edson "Dido" Silva, who held the job for less than one year in 2005.
Former Taiwan head coach Chen Kuei-jen said White has already injected much positive energy into the national squad.
He said that White had done an outstanding job coaching Guam recently.
"However, in Taiwan we have a very different soccer environment. White will need to integrate all the players and mold them into a team. This has been a persistent issue with the national team through the past years," he said.
Comments will be moderated. Keep comments relevant to the article. Remarks containing abusive and obscene language, personal attacks of any kind or promotion will be removed and the user banned. Final decision will be at the discretion of the Taipei Times.