Ice hockey makes splash in tropics, puddles and all
Puddles on the rink did not dampen enthusiasm as ice hockey made its Southeast Asian Games debut in tropical Malaysia, a country with no winter months but with ambitions in winter sports.
As the hosts beat Indonesia 10-3 in the first Games ice hockey match, marshals with squeegees had to mop up water after the ice started to melt in the first period.
Keeping the ice frozen is not easy in Malaysia, a steamy, winterless country where snow is unheard of, temperatures rarely dip below 20oC and humidity hovers at 80 percent.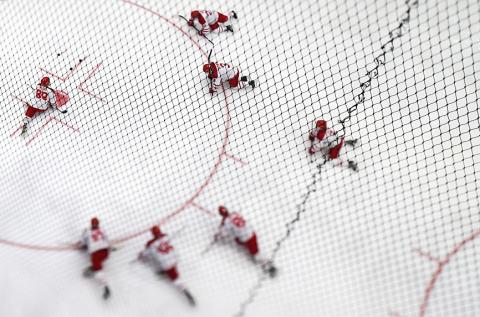 Indonesia players warm up before their match against Malaysia at the Southeast Asian Games in Kuala Lumpur on Sunday.
Photo: AFP
However, Malaysia coach former Hungarian international Kristof Kovago said his players were used to a bit of water on the rink — and even saw it as an advantage.
"It is common in Southeast Asia because the weather is way too hot and very humid and there are a lot of people inside [the venue], so it's very difficult to keep the temperature down," he said.
"We're used to it, that's our advantage actually. We've practiced a lot in this kind of situation," Kovago said. "It's more sticky, so the puck will not slide. So a lot of times, you try to control the puck and you've just lost it because it will get stuck in the water."
"So it's not really an advantage, but we got used to it, so we learned to play in these kind of conditions," he added.
Sunday's game was at Kuala Lumpur's brand new national ice skating stadium, in the heart of a suburban shopping mall which remains partially under construction.
The rink, described by Indonesia coach Gary Tan as the best in Southeast Asia, has had a few teething problems and it was previously blanketed by a thick fog, before staff adjusted the temperature settings.
On Sunday the rink was ringed by hundreds of enthusiastic fans, raising the temperature beyond normal levels.
"In the first period they found it difficult to skate, but eventually they were able to skate well and overall the play was quite good," Malaysia team leader Hisham Yahaya said. "They're used to soft ice. The ice here isn't very hard, but they're able to adjust."
Ice hockey remains in its infancy in Southeast Asia and is usually played by small groups of enthusiasts.
Indonesia's team have only been together for a matter of months and they are playing only their second tournament after making their debut at this year's Asian Winter Games in Japan.
"This is a milestone in the bigger development of this super-beautiful sport, ice hockey," Indonesia captain Jonathan Sudharta said. "Asia is not known for ice games, but I think this is a great milestone to develop this even further in the future."
"It's a beautiful rink compared to what we have in Indonesia, so we don't want to complain about the wet or anything," Sudharta said.
Comments will be moderated. Keep comments relevant to the article. Remarks containing abusive and obscene language, personal attacks of any kind or promotion will be removed and the user banned. Final decision will be at the discretion of the Taipei Times.