India-Pakistan clash stirs memories of 2007
Those hoping for a thrilling Champions Trophy final between India and Pakistan at The Oval in London today might take heart from the only other occasion the archrivals have met in the climax of a major ICC world event.
Twenty20, pioneered as a professional sport in the English county game, was still in its global infancy a decade ago when Johannesburg hosted the 2007 World Twenty20 final, with many players inclined to treat it as just a bit of fun compared with the more serious business of one-day internationals and Test matches.
The New Zealand team even took to wearing kits from the 1980s and sporting outrageous facial hair in T20 internationals.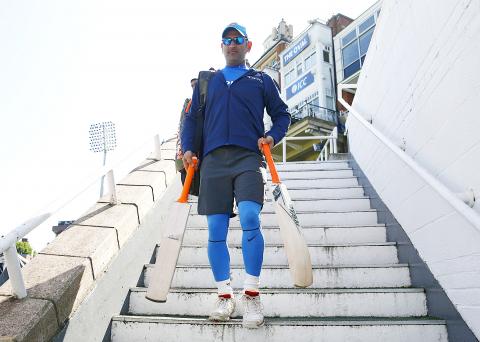 India's M.S. Dhoni carries equipment toward the pitch for a practice session at The Oval in London yesterday.
Photo: Reuters
However, the inaugural World Twenty20 in South Africa was arguably the moment cricket's newest kid on the block achieved sporting adulthood.
There had been concerns among many Indian officials about the impact of Twenty20, amid fears its abbreviated time frame might lead to a reduction in commercial revenues from ODIs, with sponsors, and therefore broadcasters, unwilling to commit funds in similarly vast quantities to a much shorter game.
However, just as India's shock defeat of the West Indies in the 1983 World Cup final at Lord's sparked a shift in focus from Test to ODIs in the world's second-most populous nation and thus, eventually, in global cricket as a whole, so the 2007 World Twenty20 final is now seen as something of a staging post.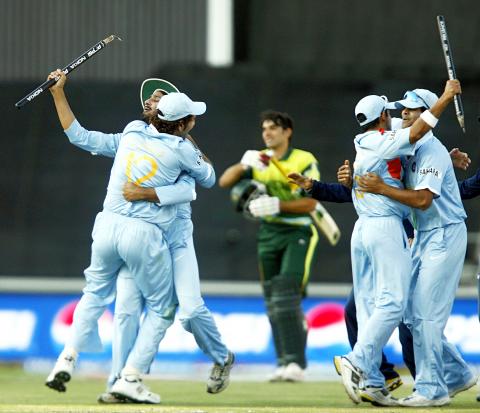 Pakistan's Misbah-ul-Haq, center, walks from the field as India players celebrate victory in the ICC World Twenty20 final in Johannesburg on Sept. 24, 2007.
Photo: Reuters
The match itself, which followed India's "bowl out" win after a group-stage tie with Pakistan, was a classic.
India fought hard to get to 157-5 before some excellent bowling left Pakistan seemingly down and out, with 54 needed to win off 24 deliveries and a mere three wickets in hand.
Yet Misbah-ul-Haq revived the contest by thumping off-spinner Harbhajan Singh for three sixes.
In the last over, Pakistan needed 13 to win with Misbah on strike, but only one wicket now standing.
Then-India captain M.S. Dhoni — who is to play today — gave the ball to the inexperienced Joginder Sharma, who bowled a wide.
Misbah then hit a full toss for six and victory was within Pakistan's grasp as they needed six more runs off the remaining four deliveries.
However, Misbah, moving across his stumps, failed to connect properly with a scoop down to fine-leg — now a commonplace shot, but in 2007 still daringly unorthodox — and Shanthakumaran Sreesanth held a catch at short-fine-leg to spark scenes of jubilation among millions of India fans worldwide.
A couple of months after the final, the "rebel" Twenty20 Indian Cricket League (ICL) was launched.
The Board of Control for Cricket in India (BCCI), unhappy at what it saw as a threat to its power, imposed lifetime bans on players joining the ICL and a year later launched the Indian Premier League (IPL), which effectively killed off its domestic rival.
Now the IPL attracts the world's best players and, in some cases, allows them to turn their back on Test cricket and still enjoy hugely lucrative careers — something that would have seemed far-fetched only a generation earlier.
The ICL might have forced the BCCI's hand, but without the catalyst of a thrilling win in a major international final, and against Pakistan as well, would Twenty20 have taken off with fans and officials alike in India, cricket's economic powerhouse, in quite the same way?
Comments will be moderated. Keep comments relevant to the article. Remarks containing abusive and obscene language, personal attacks of any kind or promotion will be removed and the user banned. Final decision will be at the discretion of the Taipei Times.