Giro rivals dream of 'bad legs' day for Dumoulin
THIRD OVERALL: Thibaut Pinot on Saturday sprinted to take victory of the 20th stage of his debutant Italy tour in a strategic collaboration to keep Dumoulin on his toes
Two-time champion Vincenzo Nibali joined fellow rivals in wishing another "bad legs" day on Giro d'Italia hopeful Tom Dumoulin when yesterday's time-trial brought a dramatic end to the 100th edition.
A day after losing the pink jersey to Colombia's 2014 champion Nairo Quintana due to "bad legs" on an epic day of climbing through the Dolomites in Italy, Team Sunweb leader Dumoulin was in far better form on Saturday.
Repelling a series of attacks by Nibali of the Bahrain-Merida Pro Cycling Team, and race leader Quintana of Movistar Team and Frenchman Thibaut Pinot of Team Francaise des Jeux during a tense finale to the 20th stage, Dumoulin came over the finish of the 190km ride from Pordenone to Asiago only 15 seconds in arrears to his victory rivals.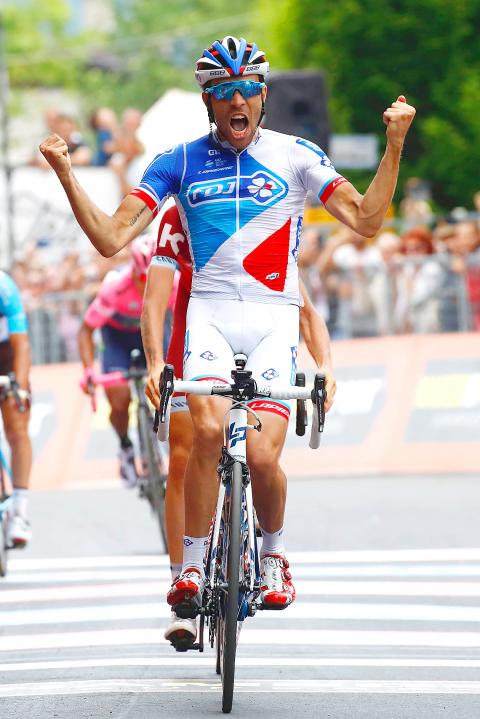 Thibaut Pinot of Team Francaise des Jeux crosses the finish line to win the 20th stage of 100th Giro d'Italia from Pordenone to Asiago in Italy on Saturday.
Photo: AFP
Quintana, the 2014 champion, now leads 2013 and last year's winner Nibali by 39 seconds, with Giro debutant Pinot third overall at 43 and Dumoulin fourth at 53.
Given his crushing time trial victory on stage 10, Dumoulin remains firmly in contention to become the first Dutch winner of the three-week race.
However, Nibali is hoping their collaborative efforts at dropping Dumoulin take their toll.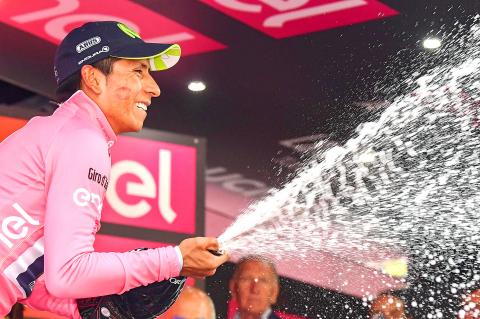 Nairo Quintana celebrates on the podium on Saturday after retaining the overall leader's pink jersey following the 20th stage of the 100th Giro d'Italia in Asiago, Italy.
Photo: EPA
"For sure, Dumoulin also had to work hard today," Nibali said. "It wasn't easy by a long shot. On the climb over [the Monte] Grappa we really gave it everything, trying to tire Dumoulin out."
"Then on the Foza [climb] I immediately turned the screw, although I was afraid for how well Quintana was going," Nibali added.
Nibali's collaboration with Quintana and Pinot in the final kilometers of the Foza climb, and the 15km rolling stretch to Asiago, ultimately handed the Frenchman his maiden Giro stage win.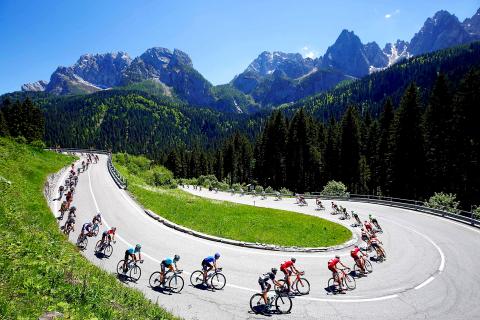 The pack on Friday rides during the 19th stage of 100th Giro d'Italia from San Candido to Piancavallo in Italy.
Photo: AFP
However, it kept Dumoulin on his toes, and Quintana — on paper a far weaker time trialist than the Olympic silver medalist from Rio de Janerio, Brazil — is not ready to capitulate.
"It might not be enough, but it might just be," the diminutive climber said when asked about his cushion over Dumoulin.
"We all finished the stage very tired. Now, we have to wait till tomorrow to see how the legs are. All I can do is give it my best. My head tells me we [Movistar] can still win, but we can also lose," Dumoulin said.
After claiming a well-deserved maiden Giro win, Pinot said: "For me, Tom Dumoulin is still the favorite to win [the race] tomorrow."
However, he is also hoping for some last-day drama.
Recalling Quintana's time trial performance at the Route du Sud race in France, he said: "Quintana is not too shabby in the time trial, I remember him beating Chavanel at the Route du Sud."
"Dumoulin is just 10 seconds behind him, I hope to be on the podium and for the overall win, we'll have to wait and see," he said. "At this point, no one can say who will win the Giro tomorrow. It's going to be a real thriller."
Comments will be moderated. Keep comments relevant to the article. Remarks containing abusive and obscene language, personal attacks of any kind or promotion will be removed and the user banned. Final decision will be at the discretion of the Taipei Times.