Penguins' Sidney Crosby outdoes Ovechkin
Sidney Crosby outdueled Alex Ovechkin in a vintage goal-for-goal showdown between the NHL's top teams, while Nick Bonino and Marc-Andre Fleury put the finishing touches on a playoff classic.
Crosby scored two goals in 52 seconds, Bonino had the winner in the third period and Fleury made dazzling saves with and without his stick helping the Pittsburgh Penguins beat the Washington Capitals 3-2 on Thursday night in Game 1 of their highly anticipated second-round series.
Almost eight years after their "dueling hat-tricks" game, Ovechkin answered Crosby with his fourth goal of the playoffs, but his team could not compensate for the Penguins captain's greatness.
Pittsburgh Penguins center Sidney Crosby, right, controls the puck as Washington Capitals center Nicklas Backstrom defends during their game at the Verizon Center in Washington on Thursday.
Photo: Geoff Burke-USA TODAY
"They're special athletes, both those guys, and they look for those big moments and they capitalize on those big moments," Capitals coach Barry Trotz said. "They're special players."
Crosby scored twice in the first 64 seconds of the second period to give him as many goals as he had points in the Penguins' series against the Capitals a year ago.
"That's how it goes sometimes," Crosby said. "You don't get some for a while and then they come in bunches."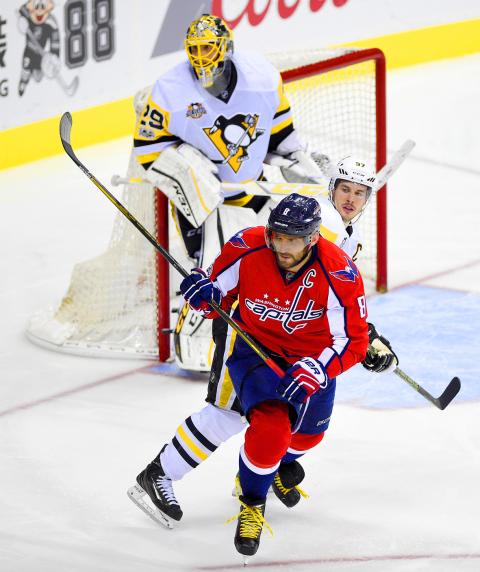 Washington Capitals left wing Alex Ovechkin, front, skates in front of Sidney Crosby, center, and Marc-Andre Fleury of the Pittsburgh Penguins during Game 1 of their NHL playoff series in Washington on Thursday.
Photo: AP
With linemates Jake Guentzel and Patric Hornqvist playing a game of "get Crosby the puck and watch him do his thing," last year's playoff MVP capitalized on a couple of Washington mistakes and looked as if he had a third goal in him a few more times.
"He was a threat all night," Penguins center Matt Cullen said. "He was dangerous. He was attacking."
In a post-season full of blown multi-goal leads, the Capitals rallied on goals by Ovechkin late in the second and Evgeny Kuznetsov early in the third.
However, another Capitals mistake allowed Scott Wilson to find Bonino in some open ice, and the third-line center beat Braden Holtby with 7 minutes, 24 seconds remaining for the Game 1 winner.
"Bones [Bonino] is a guy that's a high-stakes player," coach Mike Sullivan said. "He brings his best game when the games are most important, and we've got a lot of guys on our roster that we can say that about."
Fleury qualifies, especially after he flailed around and almost stood on his head to preserve the victory. He made 15 of his 32 saves in the third period, including a flurry of four with long after he had lost his stick.
"I couldn't see the puck for a little while there, I had no stick, so I was trying to make some stops," Fleury said. "It was fun."
In Ottawa, Erik Karlsson scored on a bad-angle shot in the third period to lift the Senators to a 2-1 win in the opener of their second-round playoff series against the New York Rangers.
Comments will be moderated. Keep comments relevant to the article. Remarks containing abusive and obscene language, personal attacks of any kind or promotion will be removed and the user banned. Final decision will be at the discretion of the Taipei Times.