RIO OLYMPICS: Spain lead record 34 NBA players out to topple US
Spain settled for second-best to US NBA stars at the past two Olympics, but Pau Gasol and his teammates hope their third upset attempt is charmed.
Outside of the US dozen of NBA standouts, a record 34 NBA players are on other Olympics rivals, five more than in 2012.
Apart from the US, Spain offers the most NBA experience at the Rio Olympics, with seven active players and three former NBA players in the lineup. Australia, France and Brazil each boast five NBA players.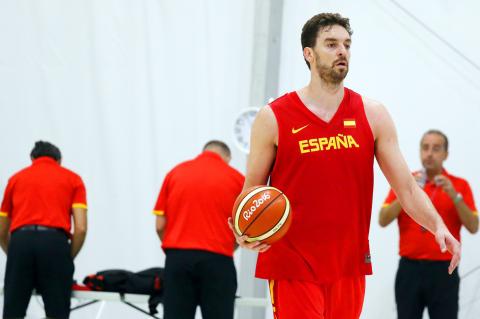 Pau Gasol of Spain participates in a training session at the Athletes' Park prior the Rio 2016 Olympic Games in Brazil on Friday.
Photo: EPA
Argentina has four and only two teams in Rio, China and Venezuela, lack any active NBA talent — a testimony to the impact of the original 1992 US Olympic "Dream Team."
"Michael Jordan, Larry Bird, Magic Johnson, David Robinson — all those guys had so much fun and that's what you envision when you see the Olympics," US Olympian Kyle Lowry said. "A lot of people say: 'The reason I started playing basketball was because of the Dream Team.' So I hope that in 20 years, some teams will have seen us play in 2016 and that made them play basketball."
Former NBA player Juan Carlos Navarro makes his fifth Olympic appearance for Spain, while former NBAer Rudy Fernandez and current Laker Jose Calderon and Gasol play in their fourth Olympics.
Other Spanish NBA talent includes Oklahoma City's Alex Abrines, New York's Guillermo Hernangomez, Chicago's Nikola Mirotic, Minnesota's Ricky Rubio and Philadelphia's Sergio Rodriguez.
Spain would love nothing more than to dethrone the US squad for Olympic gold, having lost the 2008 Beijing final 118-107 and the 2012 London final 107-100.
"It would mean the world," said 36-year-old center Gasol, a two-time NBA champion with the Los Angeles Lakers who now plays for the San Antonio Spurs. "But it's extremely hard. That's why it would mean so much."
Spain begins Group B play today against Croatia. Other preliminary-round openers in Spain's group find Argentina against Nigeria and hosts Brazil facing Lithuania.
"We have to do a lot of things right," Gasol said. "We have to work to beat a lot of great teams to have a chance to get there, so we've got to grow as the tournament advances and deserve to get there."
However, one key missing big man for Spain is Marc Gasol, Pau's brother, who has a foot injury.
"He was very important. We have to find out how we're going to play without him," Mirotic said. "Defensively we need to step up, especially because Marc is not here."
Mirotic is confident Spain have what it takes to humble the US.
"They have a superstar team. Everybody can score 20 points," he said. "But you never know. Anything is possible. It's too early to think about the final. We need to think about our group."
US coach Mike Krzyzewski praised Spain's chemistry and teamwork, bonds built over years, while the US team only assembled on July 18.
"They are experienced together, and that's something our team doesn't have," Krzyzewski said. "There's a brotherhood, a familiarity they have and a pride to play for their country."
Argentina are sparked by San Antonio Spurs guard Manu Ginobili and Brooklyn big man Luis Scoia, while Brazil's NBA lineup includes Phoenix's Leandro Barbosa, Nene of Houston and Utah's Raul Neto.
The US top Group A favorites with China, France, Australia, Serbia and Venezuela.
The Aussie Boomers feature Dallas Mavericks big man Andew Bogut, San Antonio Spurs guard Patty Mills and Milwaukee's Matthew Dellavedova, who helped the Cavaliers beat Golden State in June.
The French offer Charlotte's Nicolas Batum, Utah's Boris Diaw and San Antonio star guard Tony Parker, who has helped the Spurs claim four NBA crowns.
Comments will be moderated. Keep comments relevant to the article. Remarks containing abusive and obscene language, personal attacks of any kind or promotion will be removed and the user banned. Final decision will be at the discretion of the Taipei Times.