Novak Djokovic reaches Rogers Cup final
Top-ranked Novak Djokovic beat 10th-seeded Gael Monfils 6-3, 6-2 on Saturday night to reach the Rogers Cup final and improve to 12-0 against the Frenchman.
"You do have a certain mental comfort knowing that you have had plenty of success against your opponent," Djokovic said. "Nevertheless, that is not a certainty. That's not a guarantee that you can win the match. Actually, it actually makes him more eager to come out and play his best tennis."
The winner in 2007, 2011 and 2012 in the hardcourt event that rotates between Toronto and Montreal, Djokovic faces third-seeded Kei Nishikori of Japan. Nishikori beat second-seeded Stanislas Wawrinka of Switzerland 7-6 (8/6), 6-1 in the first semi-final.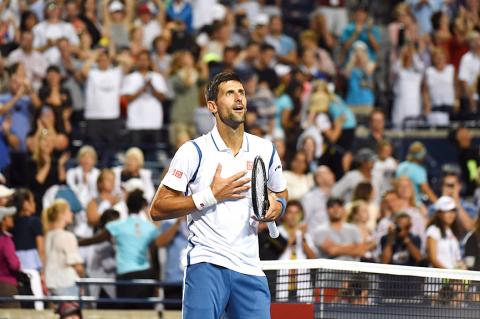 Novak Djokovic acknowledges the crowd after defeating Gael Monfils in the semi-finals of the Rogers Cup in Toronto on Saturday.
Photo: AP
"I guess he missed a few shots at the beginning. I got some opportunities and I took them and then suddenly he was not missing anymore," Monfils said. "He was going for his shots and being much better in the rallies. He became super solid. When Novak is playing like that, it's very tough to beat him."
Djokovic had six double-faults and one ace.
"I've been working on my serve a lot the last couple of years and I think especially on the second serve it has gave me an advantage, more depth on the second serve and so forth," Djokovic said. "In this tournament it is not working very well, but in general in past couple of years it has served me very well."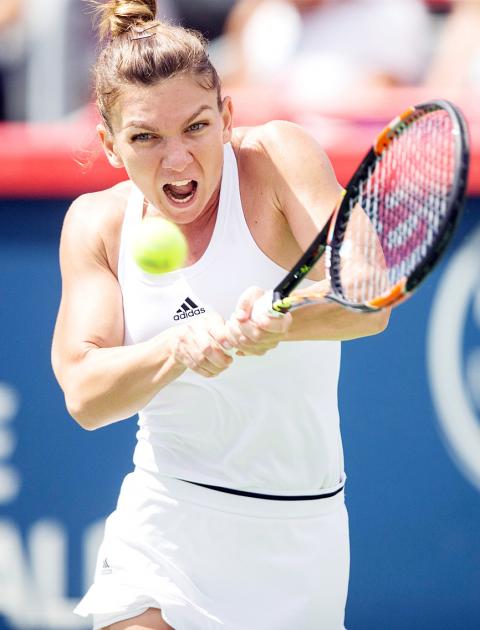 Simona Halep returns to Angelique Kerber during their Rogers Cup semi-final at the Uniprix Stadium in Montreal on Saturday.
Photo: AFP
Nishikori took his fourth straight Memphis title in February for his 11th ATP Tour victory. He had lost his past eight matches with Djokovic and was 2-9 overall.
"Haven't beat Novak for a long time on hard court," Nishikori said. "I think it's going to be a great challenge for me to play Novak again in the final, because we played in Miami and he dominated the game. So, I hope I can get revenge this time."
MONTREAL
AP, MONTREAL
Simona Halep beat Australian Open champion Angelique Kerber 6-0, 3-6, 6-2 on Saturday to advance to the Rogers Cup final for the second straight year.
The fifth-seeded Halep faces American Madison Keys in a rematch of the Romanian player's three-set victory in the round of 16 at Wimbledon. The 10th-seeded Keys beat Slovakia's Kristina Kucova 6-2, 6-1 in the second semi-final.
"She hits the ball very strong," Halep said about Keys. "Her serve is good. It will be not like today, with many rallies. In Wimbledon, the points were shorter. So I expect that I will not have a good rhythm because she can hit a winner and you don't see the ball, but she can miss sometimes."
Last year in the final in Toronto, Halep retired in the third set because of illness, handing the title to Belinda Bencic. Halep won two weeks ago in Bucharest for her second title of the year and 13th overall.
"She gets a lot of balls back," Keys said about Halep. "Her ability to get that extra ball and become the one that's in charge of the point is what she's so good at."
Keys won the Wimbledon tuneup event in Birmingham, England, for her second career WTA Tour title.
Halep topped Kerber after losing to her in the Wimbledon quarterfinals.
"It was not my day," said Kerber, the second-seeded German playing her last event before the Olympics in Rio de Janeiro. "I was not playing my best. I made lot of mistakes. That's actually not my game. I knew I had to go for it, take chances and be a little bit risky to win against her."
Kerber won six games in a row, including a service break to start the third set before Halep took over again with a break to tie it 2-2 and go on a run of six consecutive game wins to end the match.
"In the second set when I lost the serve at 3-2, I was a little bit disappointed," Halep said. "Also the nerves were very big."
"I don't know why, but I couldn't manage that moment and I can say I gave up a little bit mentally, but then in the third set, I said that I have to calm down, to just go and play like I did in first set — aggressive, to open the court, to try to finish the points with winners," she said.
Comments will be moderated. Keep comments relevant to the article. Remarks containing abusive and obscene language, personal attacks of any kind or promotion will be removed and the user banned. Final decision will be at the discretion of the Taipei Times.